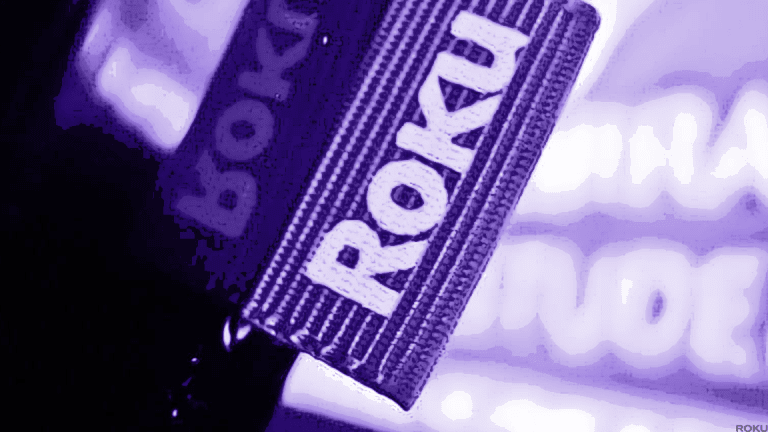 Roku Shares Jump on Earnings Beat
The company saw quarterly revenue rise 46% year over year and added 7.8 million subscribers in 2018 overall.
Shares of Roku Inc. (ROKU) - Get Roku Inc. Report  rose 5% after hours on Thursday after the media streaming service reported adding 7.8 million subscribers in 2018 on its way to topping analysts' fourth quarter top- and bottom-line estimates. 
Roku reported revenue of $275.7 million, yielding earnings of 5 cents per share. Analysts were expecting revenue of $262.1 million on earnings of 3 cents per share. 
The company also gained in all of its key metrics. Roku's average revenue per user, probably the most important metric for the company, rose 30%, or $4.17, to $17.95 in the quarter. 
The number of active accounts in the quarter increased 40% year over year to 27.1 million as streaming hours increased 69% to 7.3 billion hours. The company said that more than one in four smart TVs sold in the U.S. in 2018 were Roku TVs. 
"We believe that in the medium-term the most significant factor driving Roku's financial performance will be increasing monetization of our growing installed base. In addition to growing active accounts and increasing engagement, we are executing on our strategy to increase the economics we generate from the Roku platform," the company's earnings release stated. 
Overall, revenue for the year jumped 45% to $742.5 million.
The company said that it expects to reach revenue of $1 billion in 2019, ahead of Wall Street's expectation of revenue of $985.2 million. The company said it hopes to break even this year as it increases its head count at roughly the same 36% growth pace that it had in 2018.