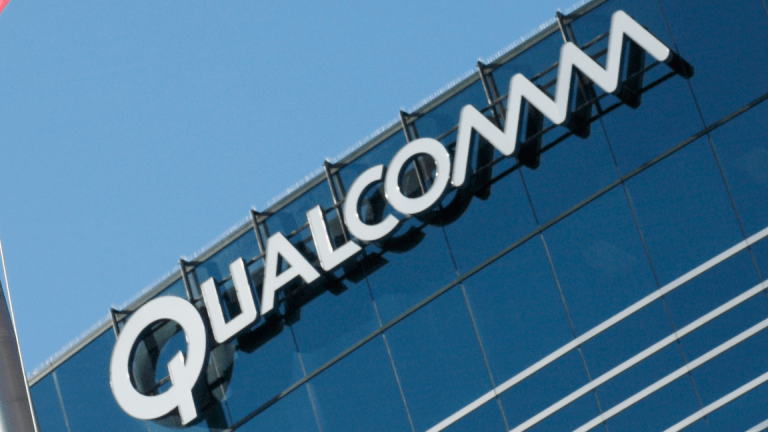 Qualcomm Falters on Weak Guidance: What Wall Street's Saying
Several analysts lowered their price targets on Qualcomm, which guided its current quarter EPS down significantly.
Qualcomm's (QCOM) earnings guidance for the current quarter disappointed due to sales weakness from the Huawei ban and poor 4G chip demand, prompting analysts to rethink their price targets on the stock. 
The stock was falling 3.25% to $70.78 a share on Thursday morning. 
Earnings per share for the June quarter, its fiscal third quarter, was 80 cents, beating analysts estimates of 77 cents. The EPS result was a 20% year-over-year decline. But revenue of $4.9 billion, representing a decline of 13%, missed the mark slightly. 
But management guided for current quarter EPS of a range of 65 cents to 75 cents, well below analysts hopes of $1.08. Lowered expectations of 4G chip sales are pressuring management's expectation for the quarter, as customers look ready to adopt 5G devices in 2020. 
Here's what Wall Street's top analysts thought of the quarter and the guidance. 
Goldman Sachs, Neutral, Price Target Reduced to $57 From $73
"We are reducing our FQ4 revenue estimate by 10% to be inline with Qualcomm's guidance, but our FQ1 revenue estimate declines by 16% due to Qualcomm's expectation of no significant sequential uptick of demand in December. Our CY20 revenue declines by 9% to $23bn and EPS by 22% to $4.56. We are also reducing our 12-month PT to $57 from $73 using 12.5x (unchanged) multiple on our CY20 EPS."
- Rod Hall
Alliance Bernstein, Market Perform, Price Target Reduced to $72 from $85
"Typically, a QCOM earnings report is complicated. Not so last night; it was merely awful."
"We struggled a bit last night with how to model the forward trajectory. At this point we have chosen to give them the benefit of the doubt (though we aren't sure they deserve it) and trend our 2021 model closer to where it was prior to the report on 5G recovery (vs the more significant air pocket we are now modeling next year). Overall though we lower estimates, and reduce our target price to $72. We maintain our Market Perform rating. Structural hopes for the stock have rested on 5G, and this continues (now more than ever) with QCOM calling out a material ramp in CY2020 off the trough which they believe will drive recovery. In the meantime however they told us the environment is going to stink for at least 2 quarters, Huawei share gains seem structural."
- Stacy Rasgon
Mizuho Securities, Neutral, Price Target $68 (Unchanged)
"QCOM noted its sees traction into 2020 with 5G ramps, and 20 OEMs already qualifying 5G devices, and the three major China carriers ramping 5G with 100K 5G base stations by YE2019, combined with 5G rollouts in the U.S in 2020. Adjusting our SepQ rev/ EPS ests from $5.8B/$1.08 to $4.7B/$0.70. F20E goes from $23.8B/$4.92 to $21.5B/$4.43, and introduce F21E at $24.5B/$5.08. Our PT of $68 is ~15.3x our F20E EPS."
- Vijay Rakesh
RBC Capital Markets, Perform, Price Target Reduced to $75 from $79
"The Takeaway: Qualcomm reported results and guidance that were below revenue expectations and guided Sept-qtr notably below consensus estimates due to a slower demand environment for 4G devices. Positively, the Company is seeing design wins for 5G continue to ramp higher and appeared to be more bullish on 2020 trends (QCOM now has 150+ 5G designs launched or in development using 5G chipsets). The Company is taking down its Global 3G/4G/5G device shipment estimate from ~1.80B to ~1.70-1.80B. Net Net: while the quarter and guide was lighter than expected, we think the primary overhang on the stock continues to be the FTC resolution. While we think the stock will trade down tomorrow on the miss, we're waiting for clarity on the FTC ruling before revisiting the Qualcomm story."
- Mitch Steves 
Save 76% with our Summer Break Sale. Subscribe to our premium site Real Money and become a smarter investor! Click here today to sign up!