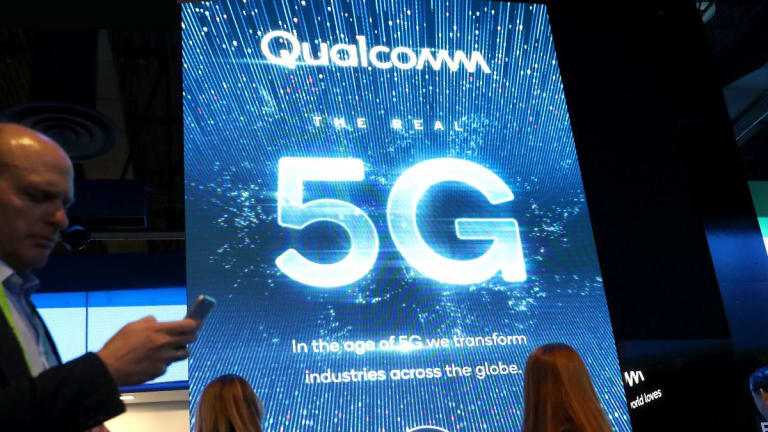 Qualcomm Nears 20-Year High As Apple Agreement Boosts Q4 Earnings and Outlook
Qualcomm shares surged to the highest level in nearly two decades Thursday after the chipmaker posted stronger-than-expected fourth quarter earnings, and said near term revenues would exceed Wall Street forecasts following its recent licensing agreement with Apple
Qualcomm Inc. (QCOM) shares surged to the highest level in nearly two decades Thursday after the chipmaker posted stronger-than-expected fourth quarter earnings, and said near term revenues would exceed Wall Street forecasts following its recent licensing agreement with Apple Inc. (AAPL)
Qualcomm said non-GAAP earnings for the three months ending in September, its fiscal fourth quarter, were pegged at 78 cents per share came in at an adjusted cents 78, down 12.4% from the same period last year but firmly ahead of Wall Street estimates of 71 cents per share. The group's adjusted operating margin, Qualcomm said, was 22.9%, beating expectations of 22.5%. Revenue for the quarter came in at $4.8 billion, against beating analysts expectations of $4.756 billion even as the total fell 17% from last year.
Qualcomm said current quarter revenue is likely to rise to between $4.4 billion and $5.2 billion, just ahead of the consensus forecast of $4.82 billion. Qualcomm said the guidance excludes QTL royalty revenue from China-backed handset maker Huawei Technologies. The group also expects non-GAAP adjusted EPS for the quarter of between 80 cents and 90 cents per share, far better than analysts' expectation of 81 cents per share.
"We are pleased with the progress we have made over the course of 2019 and believe the business is very well positioned for sustained long-term growth as we benefit from the decisions and investments made over the last several years, including 5G, the return of Apple licensing and product revenues, growth in RF front-end and growth in adjacent businesses," CEO Steve Mollenkopf told investors on a conference call late Wednesday.
"Over the last several years, we have invested to establish Qualcomm as a leader in 5G," he added. "As a reminder, 5G brings a significant increase in complexity over 4G, such as new and dense network architectures, high performance basebands, advanced RF front end designs, increased processing requirements, in addition to driving the leading edge process node."
Qualcomm shares were marked 8.7% higher at the start of trading Thursday to change hands at $91.99 each, the highest in nearly 20 years and a move that would extend the stock's year-to-date gain to around 60%.
The company's QCT sales, the largest segment, were $3.61 billion, beating estimates of $3.57 billion. QTL, a far higher margin segment, revenue was $1.15 billion, topping estimates of $1.1 billion.
The company said QTL revenue included royalty revenue from Apple, previously a question area for the company and its investors. Also, $100 million of the quarterly QTL revenue came from an "interim agreement" with Huawei. "We have not reached a final agreement with Huawei," the company said.
"While uncertainty remains for Qualcomm's future royalty rates, ability to collect if customers decide to stop paying during a potential required renegotiation, and scope of potential changes to its global licensing agreements during the appeals process, we believe Qualcomm has a strong chance to maintain its current licensing business and is well positioned to benefit with 5G network builds ramping around the world," said Canaccord Genuity analyst T. Michael Walkley, who carries a "buy" rating on the stock with a $101 price target.
"Further, we believe the recent Apple settlement and Samsung and LGE renegotiations protect a strong portion of Qualcomm's long-term licensing business model during this period of uncertainty." he added.