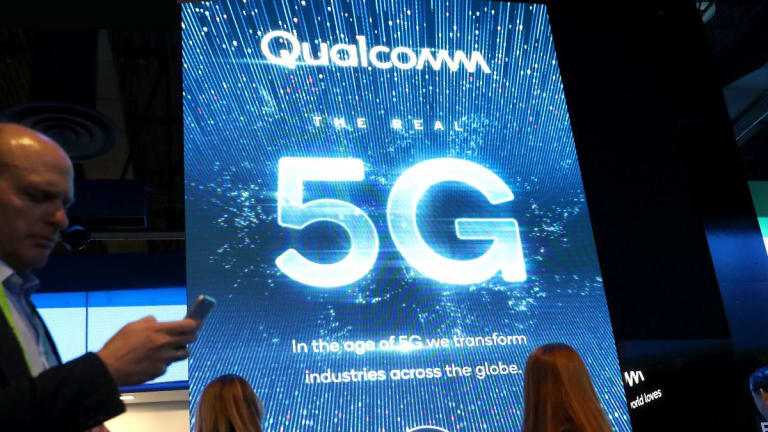 Qualcomm's Robust Third Quarter: What Wall Street's Saying
Overall strength in the company's core business segments and bullishness about Qualcomm's 5G position offset concerns about Huawei.
Qualcomm's (QCOM) - Get Reportrevenue and earnings beat and strong guidance were enough to make analysts a bit more bullish, even though there were a few question marks concerning one of the company's major customers, Huawei. 
The stock was rising 4.93% to $88.80 a share on Thursday morning. 
Adjusted earnings for Qualcomm's fiscal fourth quarter was 78 cents per share, down 12.4% from the same period last year but ahead of Wall Street estimates of 71 cents. The adjusted operating margin was 22.9%, beating expectations of 22.5%. Revenue for the quarter came in at $4.8 billion, against beating analysts expectations of $4.756 billion even as the total fell 17% from last year.
Management guided for current quarter revenue of between $4.4 billion and $5.2 billion, with the midpoint just under the $4.82 billion analysts were estimating. Qualcomm said the guidance excludes royalty revenue from Chinese telecom giant Huawei Technologies. The group also expects adjusted EPS for the quarter of between 80 cents and 90 cents per share, better than analysts' expectation of 81 cents per share.
Here's what the analysts said. 
Goldman Sachs, Neutral, Price Target Raised From $57 to $58
"Qualcomm reported an in-line Q4 and guided to in-line Q1 but materially better Q2 due to an earlier than expected ramp in 5G QCT sales. For calendar year 2020 the company rolled out a 5G unit market forecast of 175 million -225 million that is well above our own 120 million unit expectation and more in line with more bullish supply chain forecasts from companies like TSMC. We are reducing QTL fiscal year 2020 royalty revenue by 1% due to the lower than expected handset volume but note that the worse overall forecast is partly offset by a higher expected mix of 5G units and accompanying higher content expectations for those units. We are increasing our calendar year 2020 revenue forecast by 2.1% to $24.2 billion and our calendar year 2020E EPS moves up by 2.3% to $4.66 billion."
- Rod Hall
Mizuho Securities, Neutral, Price Target Raised From $68 to $80
"We we are positive on 5G in 2020. December quarter MSM chip weaker with Huawei, while QTL better with Apple. "We believe as Huawei has been using internal 5G Balong/Kirin processors. We lower our December quarter revenue/EPS estimates from $5.2 billion/$1.05 to $4.8billion/$0.85, mainly on the more-severe Huawei shortfall. Fiscal year 2020 expected adjusts as we raise revenue and trim EPS on the puts and takes: from $21.5billion/ $4.43 to $21.8 billion/$4.17. We initiate fiscal year 2021E at $26.4 billion/$5.78. We raise our price target to $80 (prior $68), roughly 19.2 times our fiscal year 2020 expected EPS, as the group has rebounded." 
- Vijay Rakesh
Cowen, Outperform, Price Target Raised From $80 to $100
"Qualcomm's results and guide surprised to the upside, with both the benefits of its Apple settlement and the potential for 2020 and 2021 5G modem/RF chip average selling prices to move sharply higher and boost out-year estimates.  We believe QTL strength is being driven by Apple unit upside following Qualcomm's new agreement earlier this year, while QCT results came in slightly ahead of consensus on a beat on MSMs units. Stronger average selling price Bump Demonstrates Magnitude & Sustainability Of 5G Content, Adjacent Opportunities. Despite The 5G Progress, Huawei Remains A Headwind To Both QTL & QCT. With Apple modem shipments resuming during late fiscal year 2020, this should provide a tailwind to fiscal year 2021 financials."
- Matthew Ramsay
Alliance Bernstein, Market Perform, Unchanged Price Target at $72
"On the positive, it seems the company cut enough in July, and also pre-guided the March quarter roughly in-line as well on revenues, with QCT suggested up mid-teens (likely mostly average selling price/content driven) on initial 5G ramps. And overall commentary on the 2020 5G opportunity sounded (on the surface) good. But it must be said that any objective view suggests this wasn't really a good quarter in the grand scheme of things; given where expectations were just 3 months ago it is likely the company would have had another significant miss had they not acted to slash forward outlook last quarter."
- Stacy Rasgon
RBC Capital Markets, Sector Perform, Price Target Raised From $75 to $88
"Our view: Qualcomm reported results and guidance that were ahead of expectations from an EPS perspective. Importantly, the Company also provided guidance for 5G unit shipments of 175-225M units in CY20. Looking forward we wait for clarity on the FTC ruling given the material overhang on the stock. Current guidance assumes no Huawei revenue. Overall, the results were positive and 5G ramps appear to be healthy. Our base-case scenario of $88 (from $75 as we roll forward valuation) reflects the potential for QCOM to generate $6.50 in earnings in fiscal year 2021 expected. Our $88 price target is based on roughly 14 times our fiscal year 2021 EPS estimate." 
- Mitch Steves