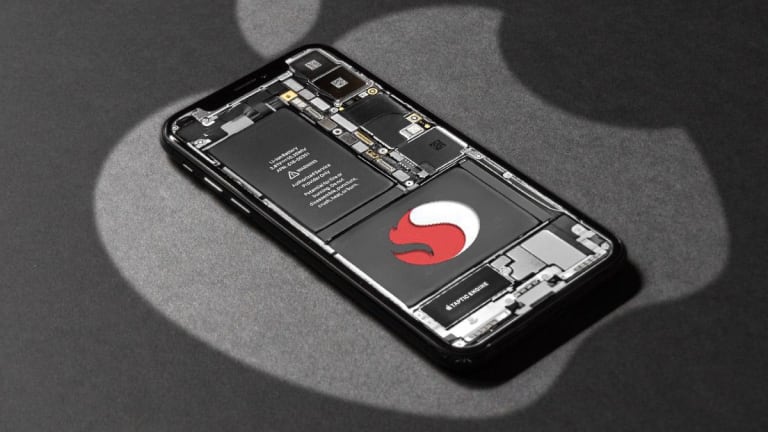 Qualcomm Forecasts Lighter Q3 Sales, Sees $4.7 Billion Apple Patent Dispute Gain
The smartphone chipmaker forecasts weaker-than-expected revenue for the current quarter as it accounts for payments from Apple to settle a long-running patent dispute.
Qualcomm Inc. (QCOM) - Get QUALCOMM Incorporated Report  , the smartphone chipmaker, forecast weaker-than-expected revenue for the current quarter as it accounted for payments from Apple Inc. (AAPL) - Get Apple Inc. Report to settle a long-running patent dispute.
Qualcomm said non-GAAP earnings for the three months ending in March, its fiscal second quarter, came in at 77 cents per share, down one penny from the same period last year but firmly ahead of the Street consensus of 71 cents per share. Group revenues, Qualcomm said, fell 5.78% to $4.9 billion, with a projection of $4.7 billion to $5.5 billion for the current quarter, trailing the $5.3 billion mid-point Refinitiv forecast.
Qualcomm also said Apple's back-dated royalty payments linked to the patent dispute settlement, which was reached last month after years of litigation, would give it a one-time benefit of between $4.5 billion and $4.7 billion. Qualcomm had earlier estimated the settlement would boost earnings per share by around $2 per share. 
"We believe this settlement is a win for both companies and we are pleased with the result and pleased to have it behind us," CEO Steve Mollenkopf told investors on a conference call late Wednesday. "[It] includes two long-term agreements with Apple: a global patent license agreement and a multi-year chipset supply agreement."
"The term of the global patent license agreement is for six years with an option for Apple to extend for an additional two years," he said. "This represents a significant milestone, as it is Qualcomm's first patent license agreement directly with Apple. In addition, we believe our resolution with Apple enhances our position with respect to resolving our ongoing licensing issues with Huawei."
Qualcomm shares were rising 1% on Thursday to $87.25.
Weakness in China, as well as slowing smartphone demand around the world, played a part in Qualcomm's softer-than-expected current quarter revenue guidance. The group is also awaiting a ruling from the U.S. Federal Trade Commission linked to antitrust allegations.
"5G will be a significant opportunity for Qualcomm," Mollenkopf said, referencing the rollout of high-speed internet networks that will boost smartphone performance capacity and ignite a new round of handset upgrades from major players such as Apple and Samsung. "It is the key technology enabler for the future of the Internet and having a strong and differentiated technology position is an important asset for our shareholders."
The company expects to generate earnings between 70 cents and 80 cents per share in the current quarter, a 20% to 30% decrease from the year ago period. The guidance was short of Wall Street's expectation for earnings of $1.29 per share.
"With 5G network builds starting to ramp around the world in 2019 and the settlement protecting Qualcomm's long-term licensing business model, we believe Qualcomm is well positioned to benefit with increasing smartphone market share with leading Android OEMs as 5G smartphone shipments ramp in 2H/19 and beyond," said Canaccord Genuity's T. Michael Walkley, who lifted his price target on the stock by $16 to $105 and left his 'buy' rating unchanged following last night's earnings release.
Learn the History of the Companies in Your Portfolio | Behind the Label