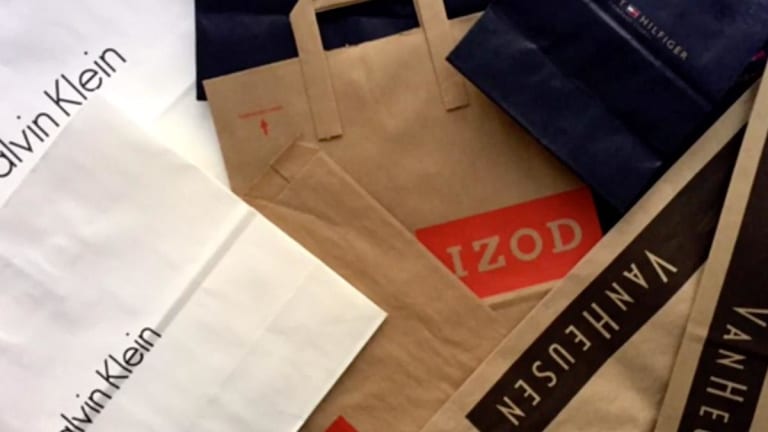 PVH Shares Slide After Full-Year Profit Forecast Cut Amid Slumping Retail Sales
The owner of the Tommy Hilfiger and Calvin Klein brands trims its full-year earnings guidance thanks to slowing retail sales and a surging U.S. dollar.
PVH Corp. (PVH) shares were sharply lower Thursday after the Tommy Hilfiger and Calvin Klein brand owner trimmed its full-year earnings guidance thanks to slowing retail sales and a surging U.S. dollar.
PVH said adjusted earnings for the three months ending on May 5 came in at $2.46 per share, up 4.2% from the same period last year and a penny ahead of the Street consensus forecast. Group sales, PVH said, rose 1.8% to $2.36 billion but fell just shy of analysts's estimates of $2.36 billion.
PVH said it now sees full-year non-GAAP earnings in the region of $10.20 to $10.30 per share, down 10 cents from its prior forecast, and expects a foreign currency impact of around 32 cents per share as it translates overseas sales into U.S. dollars. The dollar index, which tracks the greenback against a basket of six global currencies, has risen 2.12% so far this year and is more than 9% higher than its three-month average over the first quarter of 2018.
"Looking ahead, the volatile and challenging macroeconomic backdrop has continued into the second quarter, with particular softness across the U.S. and China retail landscape," said CEO Emanuel Chirico. "Additionally, further volatility in foreign exchange rates is expected to pressure our full year earnings per share by an incremental $0.10 compared to our prior expectations."
"As such, we believe it is prudent to factor this into our updated full year earnings outlook. We remain confident that we are in a strong position to gain market share as we deliver against our strategic priorities," he added. "As we continue to invest in the strategic areas of the business that address the increasingly dynamic and ever-changing consumer landscape, while also taking a more nimble approach to react to emerging business trends, we see a significant opportunity to deliver long-term value for our stockholders."
PVH shares were down 12.6% to $86.74 in trading Thursday, a move erases all of the stock's year-to-date gains. 
U.S. retail sales fell 0.2% in April, the Commerce Department said earlier this month, with the National Retail Federation pinning the slowdown on extreme weather events and delays in processing tax refunds owing to this year's government shutdown.
PVH said its 2019 earnings guidance "incorporates the impact ... of tariffs imposed on nearly $200 billion of total goods imported from China into the U.S. at 25%, but noted that it "does not contemplate any future increase in tariffs on additional goods imported from China into the U.S."