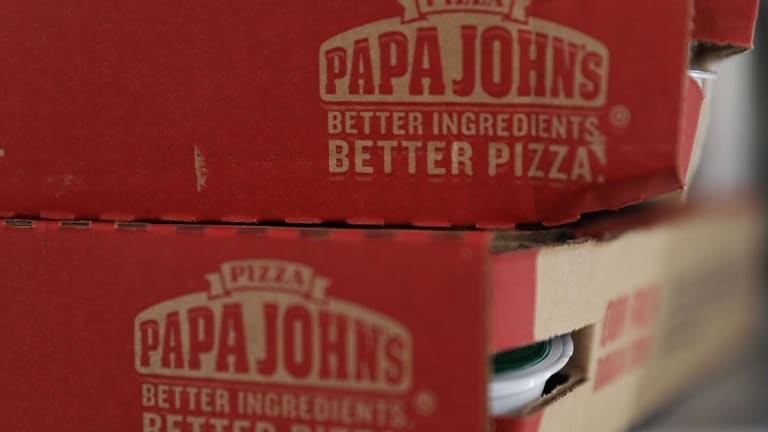 Papa John's Earnings Could Be Tough to Swallow
Down, down, down characterizes estimates about the beleaguered pizza chain's earnings for the second quarter, set to be reported Tuesday after the bell.
Down, down, down.
That's the sentiment going into the second-quarter 2018 financial results for Papa John's International Inc., (PZZA) - Get Papa John's International Inc. Report set to be posted on Tuesday, Aug. 7 after the bell.
Expected numbers for the quarter, according to eight analysts polled by FactSet Research Systems Inc., are 54 cents in earnings per share, $424.4 billion in sales and a same-store sales drop of 4.7%. The analysts have a price target of $54.50.
On Tuesday afternoon, shares of the chain were trading down more than 2% at $41.32. The 52-week high and low are $80.80 and $40.65.
Stephens Inc. analyst Will Slabaugh has lowered his price target for the stock to $60 from $70, he wrote in a note on Monday.
"We are leaving our second-quarter estimates intact and lowering our third-quarter, fiscal-year 2018 and fiscal-year 2019 estimates as follows: third-quarter 2018 same-store sales and earnings per share go to -10% and $0.24 from -2.1% and $0.56, fiscal-year 2018 domestic same-store sales and adjusted EPS go to -6.1% and $1.64 from -2.8% and $2.37, and fiscal-year 2019 domestic same-store sales and EPS go to -1.5% and $1.85 from +1.8% and $2.55," Slabaugh wrote.
Slabaugh said the scaled-back estimates come from "admittedly abbreviated industry conversations that have [proved] difficult to estimate a trend we're comfortable with after the volatile news flow of recent weeks."
The analyst was referring to the news that rocked the company starting on July 11, when Forbes published a piece reporting company founder John Schnatter used the N-word during a media training session in May. The account has had a cascading effect on the company, which led to Schnatter stepping down as board chairman and a series of actions taken by the board to limit the founder's role in the company.
Schnatter remains on the board and is the largest shareholder, retaining close to 30% of the company, although the board issued a poison pill to keep Schnatter or his relatives or associates from gaining a larger stake in the company. Schnatter and his legal team have sued to the board for the right to inspect the books.
In an interview with TheStreet on Thursday, Schnatter said the company he founded seems to be worse off now without him and was highly critical of senior management, including CEO Steve Ritchie, and the board.
"The board's behavior is reckless," he said. "It's hasty; I don't think it's well thought-out. I don't think it's in the shareholders' best interest and not in the board's best interest." 
BTIG analyst Peter Saleh has this to say in a note on Monday: "While the potential for a sale/merger of Papa John's is frequently discussed by investors, we believe management's priority needs to be recovering sales and supporting the franchise base. We remain concerned about the longer-tail effects of a significant sales decline and don't believe these could be easily changed by a new owner."