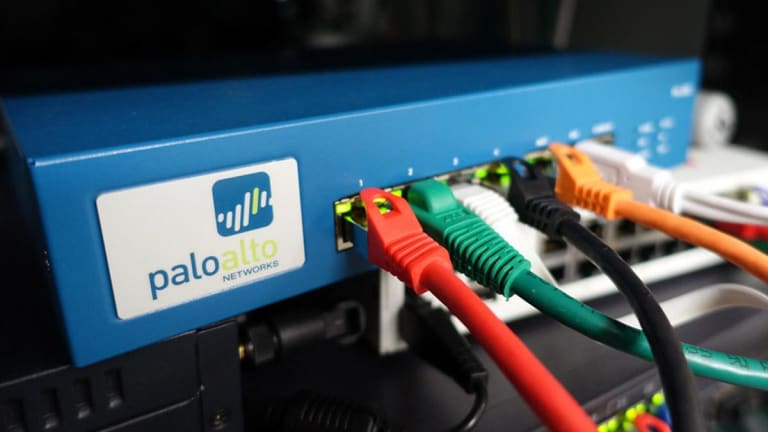 Palo Alto Networks Slumps as Cloud Shift Hits Q3 Billings, Tariffs Trim Outlook
The cyber security company guides for weaker-than-expected earnings following a solid third-quarter profit report.
Palo Alto Networks Inc. (PANW) - Get Palo Alto Networks Inc. Report shares fell Thursday after the cybersecurity group guided for weaker-than-expected earnings following a solid third-quarter profit report.
Palo Alto said adjusted earnings for the three months ending in April, the company's fiscal third quarter, came in at $1.31 per share, up 28% from the same period last year and 6 cents ahead of the Street consensus forecast. Group revenues also rose 28% to $726.6 million, firmly topping analysts' estimates of a $704 million tally. 
Looking into the final three months of its fiscal year, however, the Santa Clara, California-based tech group said it sees adjusted earnings in the range of $1.41 to $1.42 per share, around 12 cents shy of the Refinitiv consensus, with around 2 cents of that miss coming in the form of higher costs linked to tariffs on China-made imports.
Its third quarter billings total of $822 million, however, missed analysts' forecasts and was the highlight of investor concerns during the post-earnings call late last night.
"I know you guys are all getting excited about the billings number. And trust me, we stated it left, right and center to make sure that we were not missing anything in the billings number," said CEO Nikesh Arora. "I will tell you the underlying fundamentals of our business continue to be strong. We like the customer interest, we like the fact that they want to buy more security services from us."
"The two effects that are happening, one is clearly the unattached product effect, which is we're seeing better-than-expected growth and you're seeing shorter duration that those," he added. "And then, second is, to be honest, we are trying to do more new business and less business of going to our existing customers and doing multi-year bundle deals with large discounts."
"We've told the sales force that we like them to go out and get new business," he continued. As a consequence, we're not doing as many long deals with large discounts that we used to do in the past."
Palo Alto shares were falling 6% in trading Thursday to $202.42.
"We feel that Palo Alto Networks is breaking away from its traditional competitors with its cloud expansion," said Erik Suppiger at JPM Securities, who cut his price target on the stock to $250 per share but maintained his 'market perform' rating. "Despite a strong F3Q19, the company missed the consensus billings estimate by a significant margin. We believe this highlights the accelerating shift to cloud subscription-based products, which we view as a prudent long-term strategy albeit with execution risk."