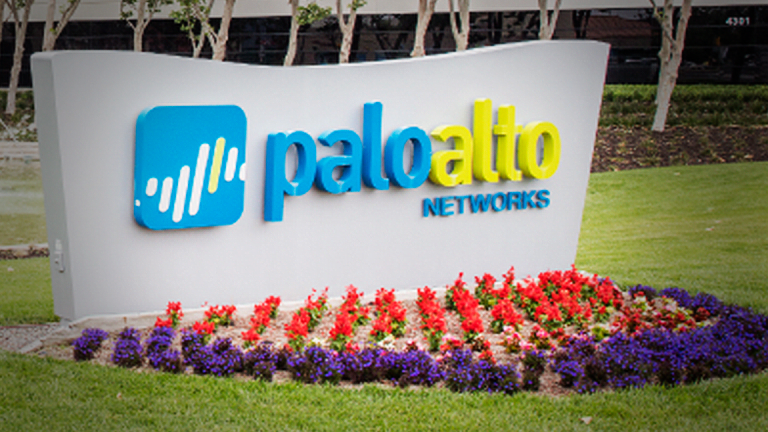 Palo Alto Falls Hard on Guidance Cut: What Wall Street's Saying
Several analysts see the poor product revenue result as transitory and 'execution-related' as the rest of Palo Alto's business gains momentum.
Palo Alto Networks  (PANW) - Get Palo Alto Networks, Inc. Reportbeat revenue and earnings estimates for its October quarter, but cut guidance for the full fiscal year of 2020, causing the stock to fall considerably. Analysts weren't dissuaded from recommending the cybersecurity firm, however, with Morgan Stanley recommending buying more shares on weakness. 
The stock fell 9.66% to $226.11 a share Tuesday. 
Adjusted earnings per share came in at $1.05 for its quarter ended October, beating analysts estimates of $1.03. Revenue was $771.9 million, beating Wall Street estimates of $768 million and growing 18% year-over-year.
However, management slightly reduced its full year fiscal 2020 revenue guidance, forecasting revenue of between $3.44 billion and $3.48 billion, just below its previous forecast of between $3.45 billion and $3.48 billion. Adjusted EPS is expected in the range of $4.90 to $5.00, lower than the initial forecast of between $5 and $5.10. 
Here's what analysts said:
Morgan Stanley, Overweight, Price Target Unchanged $290
"Growth in the next generation cloud platforms well exceeded consensus expectations in Q1, but a shortfall in core firewall revenue likely opens questions on the solidity of that foundation for growth. We see the issue as execution-related and transitory, thus we would be buyers on weakness. Product revenues of $231 million, down 4% year-over-year and $35 million below consensus expectations likely sparks investor questions on the solidity of the core firewall growth, which underpins Palo Alto Networks' path to $6 billion in total billings by fiscal year 2023.
Management explained the shortfall as an unintended consequence of more heavily weighting sales incentives towards the next generation cloud portfolio. While successfully spurring a high level of interest and excitement amongst the sales force for the newer cloud solutions, the pipelines for core firewalls fell short heading into 2020. The weak Q1 results represent an execution misstep -- not a fundamental flaw in the company's strategy." 
- Keith Weiss
Goldman Sachs, Buy, Price Target Raised to $297 From $295
"While a shift in sales incentives appears to have driven a greater focus on next-gen sales over Palo Alto's core firewall business, we believe the normalization of sales incentives will help product revenue growth return to better levels. We remain encouraged by better than expected performance from Prisma and Cortex, and believe exposure to emerging growth segments, contribution from acquisitions, and improving sales force productivity can drive better growth throughout the remainder of the year. We revise our EPS estimates to $4.98, $6.80, [and] $8.24 from $5.07, $6.78, and $8.22 (fiscal year 2020, 2021, and 2022) based on the outlook." 
- Brian Essex
Baird, Outperform, Price Target Unchanged $275
"Overall, a healthy 1Q 2020 report; however, moving parts and acquisition-related dilution may drive some near-term concern, especially in light of recent share performance. Fundamentally, we see Palo Alto continuing to flex its marketing muscle, taking meaningful share while defining the long-term strategic vision. Product revenue of $231.2 million (-4% year-over-year) versus consensus expectations for $256 million. Management believes enhanced incentives moving forward can re-accelerate firewall platform from 11% billings growth in the quarter to the 3-year compound annual growth rate target of 23%. We believe the company's new Secure SD-WAN application and the implementation of these new incentives will be important to achieving this growth." 
- Jonathan Ruykhaver
Wedbush Securities, Outperform, Price Target Unchanged $275
"After a rah-rah analyst day in September with strong 3-year growth targets given around PANW's cloud platform strategy, the Street will naturally be disappointed in a weak product performance out of the gates as the platform approach with customers hit a speed bump which we believe was partially execution driven. While importantly the underlying metrics around billings, pipeline, and fiscal year 2020 guidance were strong and a positive for the bulls, it's clear to us and reiterates our thesis that this cloud platform transition will not happen overnight. A platform approach and serial cloud acquisition strategy under Nikesh & Co [CEO, Nikesh Arora] is the right long term strategy to get PANW onto its next phase of cloud growth, but it will take time for customers and the sales force to adopt this product strategy." 
- Dan Ives