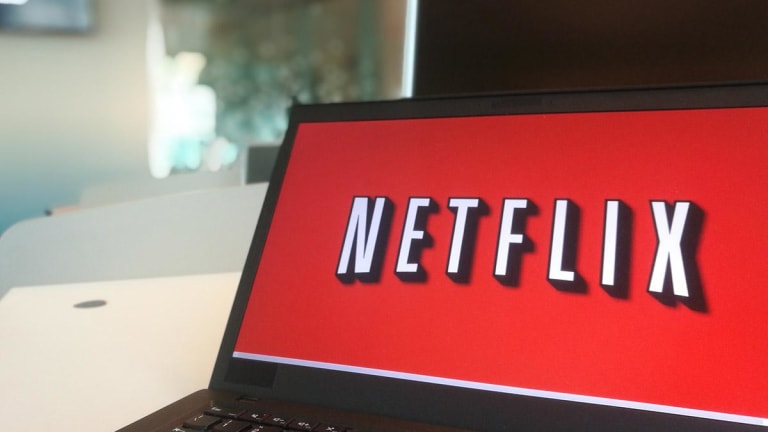 Netflix Jumps In Spite of Light Subscriber Guidance: 10 Key Takeaways
Against a backdrop of low expectations, Netflix slightly missed its Q3 subscriber add guidance and shared a below-consensus Q4 outlook. It also unveiled plans to break out its international revenue and subscribers in more detail.
With Netflix's (NFLX) - Get Netflix, Inc. Report shares well below where they traded before a big subscriber miss was posted in July, markets are giving a thumbs-up to reported and guided subscriber numbers that missed official expectations but were better than feared.
Investors might also be pleased with Netflix's plans to become a little more transparent about its international operations.
After the bell on Wednesday, Netflix reported Q3 revenue of $5.25 billion (up 31% annually) and GAAP EPS of $1.47. Revenue was in-line, while EPS, which benefited from a $171 million, non-cash gain related to the revaluation of euro-denominated debt, beat a $1.03 consensus analyst estimate.
Netflix reported adding 6.77 million paid streaming subscribers in Q3, a little below guidance of 7 million. International net adds of 6.26 million slightly beat guidance of 6.2 million, but U.S. net adds of 520,000 missed guidance of 800,000.
In addition, for the seasonally big fourth quarter, Netflix guided for 7 million international paid net adds and 600,000 U.S. paid net adds. Those numbers are respectively below consensus estimates of 8.04 million and 1.44 million.
This article has been updated to include additional details from Netflix's Q3 report, as well as some comments made during its earnings interview.
Nonetheless, with Wall Street having already been on edge about Netflix's Q2 subscriber miss and the pending arrival of fresh competition, shares have jumped post-earnings. As of the time of this article, they're up 8.8% in after-hours trading to $311.40.
Here are some notable takeaways from Netflix's Q3 shareholder letter and earnings interview:
1. Netflix Plans to Break Out Revenue and Subscriber Numbers for Four Regions
To date, Netflix has placed all of its non-U.S. streaming operations into an "International" reporting segment. However, starting with its Q4 report, the company will share revenue and subscriber figures for four regions: The U.S. and Canada; Latin America; EMEA and Asia-Pacific.
At the same time, whereas Netflix has been issuing U.S. and international paid subscriber add guidance, it will only provide global paid subscriber add guidance going forward. In addition, with Netflix asserting that such numbers mean less at a time when much of its content spending involves originals for which it has global streaming rights, the company will no longer share U.S. and International segment contribution profit margins.
2. New Competition and Recent Price Hikes Influenced Netflix's Guidance
As Disney (DIS) - Get Walt Disney Company Report and Apple (AAPL) - Get Apple Inc. Report get set to launch new streaming services in November, Netflix says "there may be some modest headwind to our near-term growth" from new competition, and that it tried to factor this into its Q4 guidance. The company also says that its outlook reflects "the minor elevated churn" it has seen following recent price hikes, as well as "less precision in our ability to forecast the impact of our Q4 content slate," given that many of the quarter's big content releases involve brand-new IP rather than new seasons of existing originals.
In spite of the aforementioned comments, Netflix reiterates its view that it's competing against digital entertainment in general rather than just streaming services, and insists it's well-positioned to compete against new rivals. "While the new competitors have some great titles (especially catalog titles), none have the variety, diversity and quality of new original programming that we are producing around the world," the company asserted.
3. Content Spend Is Expected to Rise By About $2 Billion This Year
Netflix says its 2019 cash content spending will be around $15 billion, up from $13 billion in 2018.
Separately, the company disclosed that it ended Q3 with $19.1 billion worth of streaming content obligations - up by $600 million sequentially and $500 million annually.
4. Free Cash Flow Guidance Is Reiterated
Netflix still expects its 2019 free cash flow (FCF) to be around negative $3.5 billion. The company also reiterates that it expects FCF to improve in 2020, and also in subsequent years.
5. ARPU Growth Was Healthy
With the help of its 2019 price hikes, Netflix's streaming average revenue per user (ARPU) grew 9% annually in dollars, and 12% in constant currency, in Q3. This compares with 3% dollar-based growth and 9% constant currency growth in Q2.
U.S. ARPU rose a healthy 16.5%, while international ARPU grew 10% in constant currency. For Q4, Netflix is guiding for 9% dollar-based ARPU growth.
6. More Big Viewing Numbers Were Shared for New Original Content

Netflix, which had 158.3 million paid subscribers at the end of Q3, says that psychological thriller film Secret Obsession, comedy film Otherhood and Season 3 of Spanish crime heist series La Casa de Paper were respectively watched by 40 million, 29 million and 44 million households during their first four weeks of availability. Romantic comedy film Tall Girl was watched by 41 million households during its first 28 days.
7. R&D Spend Continued Growing Faster Than Marketing Spend

Netflix's "technology and content" (R&D) spend rose 23% annually to $380 million. Its general and administrative (G&A) spend grew 38% to $233.2 million.
On the flip side, Netflix's marketing spending growth remained subdued, following big 2018 increases fueled by greater promotional activity for originals. Marketing spend rose 9% to $553.8 million, following just 2% growth in Q2.

8. Netflix Plans to Keep Investing Aggressively in Foreign-Language Content
"To date, we have globally released 100 seasons of local language, original scripted series from 17 countries and have plans for over 130 more in 2020," Netflix said in its shareholder letter. Separately, during the earnings interview, content chief Ted Sarandos said that Netflix plans to grow the number of countries from which it has released local-language content to 30.
Netflix's scale gives it an arguably unique ability to make such investments pay off, since the content can be promoted to Netflix's giant global base (with individual shows and movies targeted to consumers based on their viewing activity) rather than just in the market where the content was created.

9. Mobile-Only Plans Could Launch in Additional Markets

Netflix says that the cheap, mobile-only, streaming plan that it launched in India in Q3 has thus far performed better than its initial testing suggested it would. The company adds that it's "continuing to test mobile-only plans in other markets."
10. Netflix Is Keeping an Eye on Password-Sharing
When asked during the earnings interview whether Netflix plans to take any steps to deal with password-sharing among subscribers, product chief Greg Peters said it's something the company "[continues] to monitor." He also indicated Netflix is exploring "consumer-friendly ways" to address the issue, albeit while adding that the company has "no big plans to announce at this point in time in terms of doing something differently."
Netflix's Standard and Premium plans respectively provide access to 2 and 4 simultaneous streams per account. Notably, Disney's Disney+ service, whose sole plan can be purchased for either $6.99 per month or $69.99 per year, will provide 4 streams per account.

TheStreet's Eric Jhonsa previously covered Netflix's Q3 report and earnings interview through a live blog.