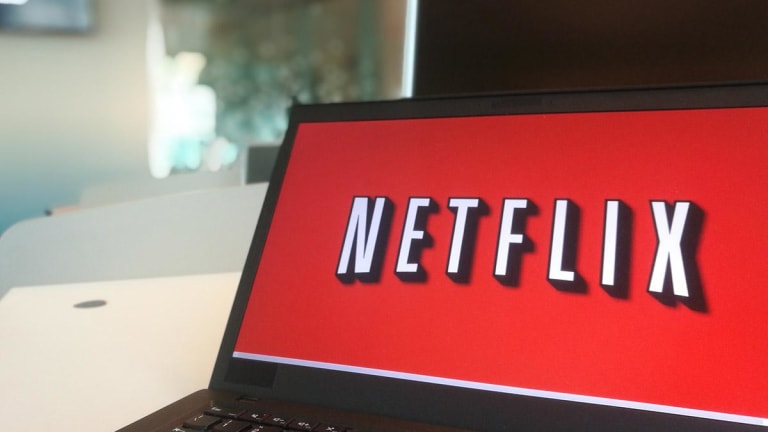 Netflix Shares Pop as Q3 Earnings, Subscriber Adds Beat Estimates
Netflix's third quarter was strong, but the fourth quarter is currently looking to be weaker than analysts expected.
Shares of Netflix (NFLX) - Get Free Report were up sharply after the streaming giant reported better-than-expected earnings and subscriber growth, but also weak guidance. 
TheStreet is live blogging Netflix's Q3 earnings report. Please join us!
The stock was up 8.9% to $311.80 a share in after-hours trading, after having gained 0.71% in regular hours.
"This is probably the most complex Netflix [financial] statement ever," Ryan Giannotto, director of research at GraniteShares told TheStreet after the earnings print. GraniteShares holds Netflix in one of its ETFs.
Netflix reported third quarter GAAP earnings per share of $1.47, beating Wall Street estimates of $1.03. Revenue was $5.25 billion, up 31% year-over-year and in line with estimates. Free cash flow was negative $551 million.
Total net paid subscribers added for the third quarter were 6.8 million, beating expectations of 6.7 million. International subscriber additions were 6.3 million, beating estimates of 6.049 million, while domestic adds were 0.5 million, against estimates of 0.802 million.
Management is guiding for fourth quarter revenue of $5.442 billion, below analyst estimates of $5.512 billion, while EPS for the quarter is projected at 51 cents, below expectations of 81 cents. Management expects global paid net subscriber additions of 7.6 million, missing estimates of 9.5 million. 
Giannotto said one reason the stock shot up considerably despite the weak guidance was because "there were not a lot of bulls leading into this" and that investor sentiment was very poor. The stock had fallen 24% since July 9, as a significant second quarter subscriber miss sent shares tumbling. Giannotto said that while management acknowledged rising competition as it issued quarterly guidance, "it was prudent on Netflix's part to set a low hurdle."
Regarding new streaming competition, Netflix said in its earnings release that "the launch of these new services will be noisy. There may be some modest headwind to our near-term growth, and we have tried to factor that into our guidance. In the long-term, though, we expect we'll continue to grow nicely given the strength of our service and the large market opportunity."
Heading into the earnings print, Netflix shares were up 7.1% for the year.