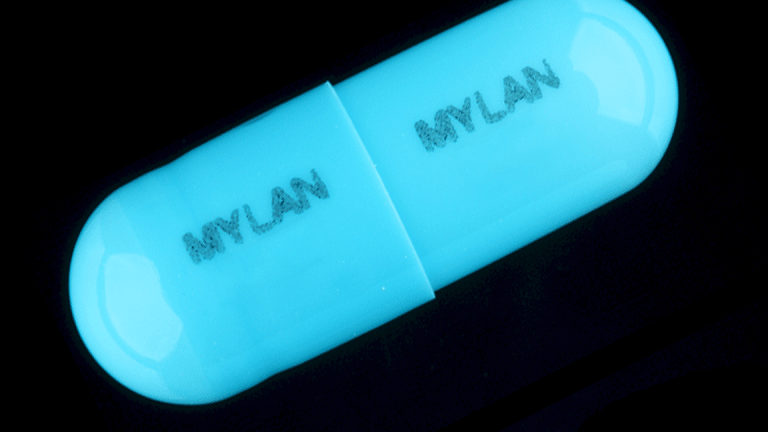 Mylan Tanks After First-Quarter Revenue Misses Estimates
Mylan sinks after the company reports first-quarter revenue that misses analysts' expectations.
British biopharmaceutical giant Mylan (MYL)  was down more than 16% Tuesday after the company reported first-quarter revenue that missed analysts' expectations. 
Mylan swung to a first-quarter loss of $25 million after reporting a profit a year ago. Adjusted earnings were 82 cents per share while revenue from its U.S. business fell 6% and overall revenue fell 7% to $2.5 billion.
Analysts were expecting the company to report earnings of 79 cents per share on revenue of $2.69 billion. 
For the full year, the company expects earnings to range between $3.80 and $4.80 per share on revenue between $11.5 billion and $12.5 billion. Analysts are expecting earnings of $4.41 per share on revenue of $11.96 billion. 
"Mylan's first quarter represents a solid start to the year and we remain positioned to reaffirm our guidance for 2019. We continue to manage an increasingly diverse portfolio of products across all three segments of our business, and given the evolution of our commercial and geographic mix see opportunities to enhance our investments for certain areas of our portfolio," CEO Heather Bresch said. "In the U.S., where the industry continues to experience volatility, we are leveraging past experience and applying key learnings to our largest launches, like Wixela, even as we advocate for policies that seek to put the patient first."
The company explained the decline in its North America business as a result of "lower volumes on existing products, primarily driven by changes in the competitive environment and the impact of the Morgantown plant remediation activities."
Mylan shares were falling 16.6% to $23.58 on Tuesday.