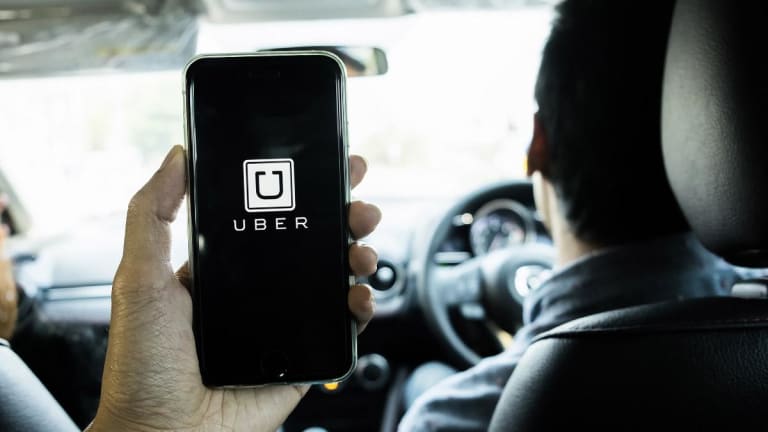 After Lyft's Solid Quarter, all Eyes Are on Uber's Path to Profitability
Analysts are looking at higher ride-hailing take-rates as one catalyst that could drive profits for Uber.
The biggest concern on the minds of ride-hailing investors is Lyft (LYFT) - Get Lyft, Inc. Class A Report and Uber's (UBER) - Get Uber Technologies, Inc. Report paths to profitability. 
For its part, Lyft lost less money than Wall Street had expected in the third quarter of 2019 in an earnings report that came just after management told the media that it expects to be EBITDA positive by fourth quarter 2021. Still, the stock is down slightly from $43.70 a share just before management made that comment to $43 Monday. 
Now, Uber is set to report its third quarter earnings on Monday after the close. For Uber, the market isn't anticipating the company to be profitable on any basis until 2022 or 2021. For the quarter, analysts polled by FactSet are looking for Uber to report a loss of 59 cents per share and negative free cash flow of $713 million.
But several factors are making analysts somewhat optimistic Uber can beat expectations, which would make investors slightly more confident the company can move towards a profit. 
The improving Lyft story is swaying analysts for the moment. "Post Lyft Q3 EPS results, we are neutral to incrementally positive for Ridesharing market demand given the 63% year-over-year Revenue growth Lyft reported and we are more positive on Uber's profitability trends," wrote RBC Capital Markets analyst Mark Mahaney in a Friday afternoon note.
On Monday, Uber shares were down 3.16% to $30.38. Shares are down about 26% from its IPO in May. 
Wedbush Securities analyst Dan Ives wrote on Friday evening that "while Lyft has now given targets on profitability, Uber remains mum with hopes the company will give some more color around its bottom line strategy on its conference call Monday night." He added, "In terms of the quarter, we expect Uber to beat expectations with our/consensus revenue of $3.85B (+31% year-over-year)/$3.7B (+26%) and adjusted EBITDA of negative $730 million/ negative $818 million."
One point that will power both companies' ability to achieve a profit is higher ride-hailing take-rates, or the percentage of fares and fees that it keeps for itself. After having battled each other to accrue riders, Uber and Lyft are now widely expected to begin raising prices and halting discounts and rewards, a trend analysts call "price rationalization." Mahaney said "We are more positive on Uber's profitability trends in part due to Lyft commentary about a more rational market environment (reduced couponing)." 
For Ives, take-rate expansion is certainly a part of his hopes for the company, but its newer services are also an important driver for the stock, for which he has a bullish price target of $58. With a 100 million person installed base, Ives wrote that "a core tenet of our longer term positive thesis on the name is around Uber's ability to morph its unrivaled ridesharing platform into a broader consumer engine with Uber Eats, Uber Freight, and autonomous initiatives to hit its full monetization potential at scale."
Ives added that Grubhub (GRUB) - Get Grubhub, Inc. Report recently said it's offering free deliveries to some users as Uber Eats emerges as a competitor. Ives sees Grubhub's 20% take-rate, which is twice Uber Eat's 10%, as another reason why Uber can grow its user count on Uber Eats.