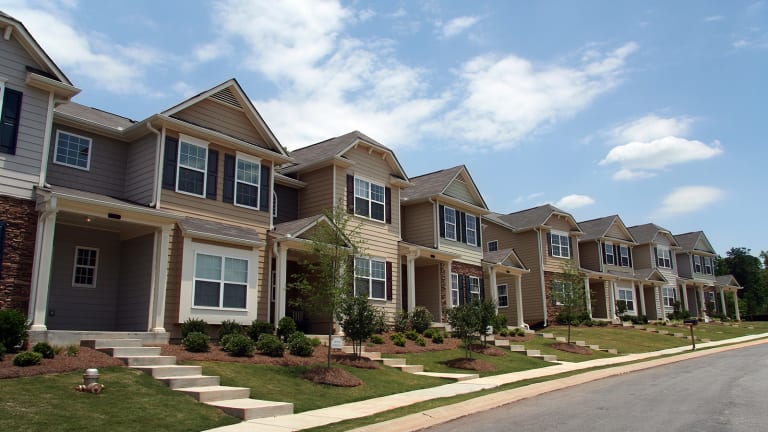 Lennar Misses Q1 Earnings Forecast but Sees 'Favorable' Housing Market Near Term
Lennar posts modestly weaker-than-expected first-quarter earnings as slow housing starts hit the second-largest U.S. homebuilder's bottom line even as mortgage rates eased.
Lennar Corp. (LEN) - Get Lennar Corporation Class A Report posted modestly weaker-than-expected first quarter earnings Wednesday as slow housing starts hit the second-largest U.S. homebuilder's bottom line even as mortgage rates eased.
Lennar said earnings for the three months ended in February, the company's fiscal first quarter, came in at 74 cents a share, up 39.6% from the same period last year but 1 cent shy of the Street consensus forecast. Group revenues, Lennar said, rose 31% to $3.9 billion but fell shy of analysts' forecasts of $4.11 billion.
New home orders rose 24% to to $4.2 billion, Lennar said, while deliveries over the three month period jumped 30% from last year to 8,820 units. The group's backlog, however, slipped 2% to 17.259 units. 
"We continued to see choppiness in the marketplace during our first quarter, consistent with what we highlighted on our fourth quarter conference call," said CEO Stuart Miller. "However, during the quarter, mortgage interest rates subsided and ultimately pulled back and home prices moderated providing a catalyst for the new home market to correct itself."
"Accordingly, sequentially throughout the first quarter, we saw increased interest in new home purchases as part of an improving and stabilizing housing market," he added. "We continue to believe that the basic underlying housing market fundamentals of low unemployment, higher wages and low inventory levels remain favorable."
Lennar shares were rising 4.6% to $52 on Wednesday as benchmark Treasury bond yields fell hard following dovish comments on the global economy from European Central Bank President Mario Draghi.
Data Wednesday from the Mortgage Bankers' Association also showed that 30-year fixed rates fell 10 basis points to 4.45% in the week ending March 22, sparking a 12.4% rise in refinancings and a 6.4% jump in the Association's purchase index.
Rival homebuilder KB Homes Inc. (KBH) - Get KB Home Report , meanwhile, was marked 1.33% higher at $24.34 per share after it beat first quarter earnings estimates with a bottom line of 31 cents a share on sales of $811.5 million.
"Last week's announcement from the Federal Reserve signaling the likelihood of no further rate increases this year, should also help to sustain the favorable macro environment," KB Homes CEO Jeff Mezger told investors on a conference call late Tuesday. "Overall, the back drop for the home building industry is positive and we are optimistic about our ability to capture the demand for home ownership."
"We have a large number of openings planned for the remainder of the year, particularly in the second quarter, which position us well to capture demand during the spring selling season," he added. "We continue to expect between 10% and 15% growth in our average community count for the full-year."