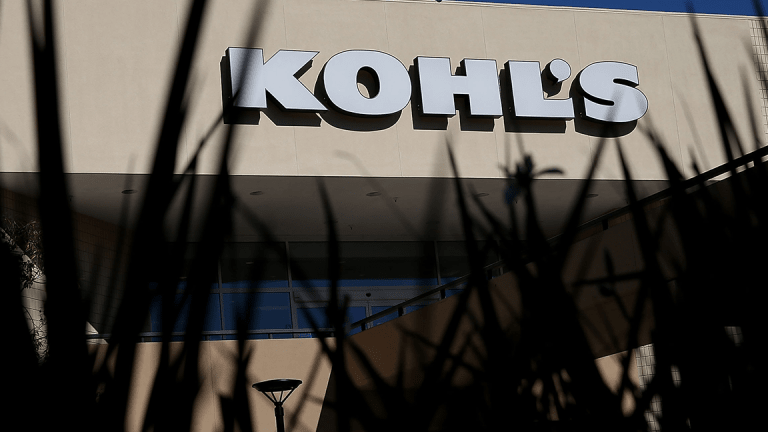 Kohl's Shares Recoup a Bit Even After Downgrades at Telsey and Goldman Sachs
The department-store retailer had lost nearly 20% of its market value on Tuesday, when its earnings and outlook disappointed investors.
Kohl's (KSS) - Get Kohl's Corporation (KSS) Report  shares on Wednesday were higher, even after two investment firms downgraded the department-store chain. 
The shares at last check were 0.5% higher at $47.23. The company on Tuesday had lost nearly a fifth of its market value after reporting earnings and an outlook that disappointed investors.
Analysts at Goldman Sachs on Wednesday downgraded the stock to neutral, while Telsey cut its rating on the stock to market perform. Both cut their price targets on the Menomenee, Wis., company to $48, Goldman from $56 and Telsey from $60. 
The downgrades came after the company reported fiscal third-quarter earnings of 78 cents a share, short of analysts' consensus estimate of 85 cents. Revenue came in at $4.63 billion, below the expected $4.66 billion. 
The big issue was the company's new full-year EPS target, which it lowered to between $4.75 and $4.95 a share from its previous view of $5.15 and $5.45. The outlook suggests that the holiday season won't be as strong for the retailer as investors had hoped.
In the news release with the numbers and guidance, CEO Michelle Gass seemed optimistic about the current quarter. 
"We enter the holiday period with momentum and are strategically increasing our investments to take advantage of the unique opportunity to fuel growth and customer acquisition," Gass said. 
But the team at Jim Cramer's Action Alerts PLUS, which owns Kohl's shares, made the point that the guidance does not match with the rhetoric. 
"Unfortunately, numbers speak louder than words, and while the third-quarter results were disappointing, we believe guidance to be most responsible for Tuesday's decline," said TheStreet's Jim Cramer.
"There is no sugarcoating it; this was not the quarter we were looking for and management did not live up to our expectations."