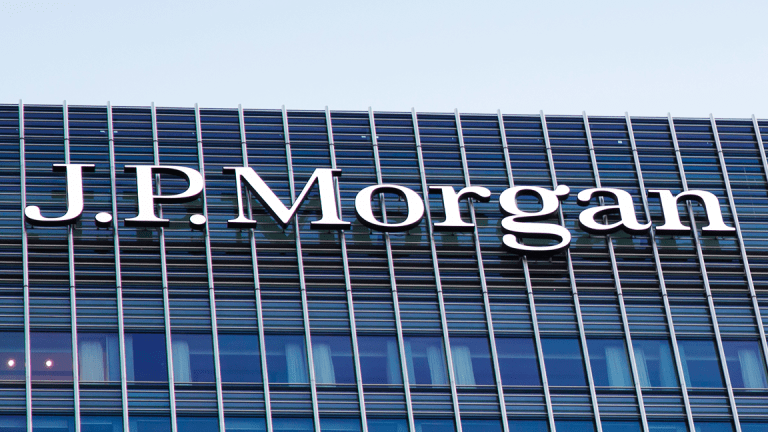 JPMorgan Touts a Sound Banking System on the Hill Ahead of Friday Report
Buy JPMorgan on weakness to its annual pivot at $102.64 and reduce holdings on strength to its semiannual risky level at $110.75.
JPMorgan Chase & Co (JPM) - Get JPMorgan Chase & Co. (JPM) Report is the largest of the four money center banks considered "too big to fail" and is the only major bank in the Dow Jones Industrial Average. The stock faces several reasons for pre-earnings volatility. My call is to buy weakness to its annual pivot at $102.64 and reduce holdings on strength to its semiannual risky level at $110.75.
Wednesday CEO Jamie Dimon and six other bank CEOs are appearing before House Financial Service Committee and its chairwoman Maxine Waters. Banks will be grilled on the hill but will tout that the banking system is sound and that current banking regulations are enough if another crisis were to occur. At 2:00 PM Wednesday, investors will read the minutes from the March 20 FOMC meeting. Then the focus shifts to earnings; JPMorgan reports Friday premarket.
When listening to bits and pieces of the congressional fireworks, Jamie Dimon stated that since the financial crisis, JPMorgan eliminated 17 lines of business. As a Chase credit card holder, I know that the bank is raising credit card rates and decreasing the line of credit on cards where they can. However, they are attempting to increase lending to small business as I have received the same invitation for six months in a row.
According to the data from the Federal Deposit Insurance Corporation, or FDIC, JPMorgan had $2.35 trillion in assets with a well-managed loan pipeline. What's interesting to note is the huge decline in Notional Amount of Derivatives outstanding. At the end of 2018, this totaled $178.1 trillion down 15% from $209.8 trillion at the end of the third quarter. This is a huge decline in risk that could be caused by the uncertainties of Brexit and reduced exposures to trading. If I recall in prior commentary, Jamie Dimon stated that he does not see a recession on the horizon but is planning for one.
Analysts expect JPMorgan to earn $2.32 to $2.39 per share when it reports before the opening bell on Friday. The stock is reasonably priced with a P/E ratio of 11.77 and a dividend of 3.03%, according to Macrotrends. The banking giant has beaten estimates for six consecutive quarters and has creative accountants to continue this trend. Given the favorable dividend yield, JPMorgan is a member of the 2019 "Dogs of the Dow."
The Daily Chart for JPMorgan
Courtesy of Refinitiv XENITH
The daily chart for JPMorgan shows that the stock traded to its all-time high of $119.33 on Feb. 27, 2018, then declined to $102.20 on July 6, 2018. The stock then rebounded to a secondary high of $119.24 on Sept. 20. This can be viewed as a double-top for the stock. The stock is in correction territory 12% below the highs.
JPMorgan stock set its Dec. 26 low of $91.11 and that day was a "key reversal" as the close at $95.96 that day was above the Dec. 24 high of $94.22. The close of $97.62 on Dec. 31 was the first major input to my proprietary analytics. From this analysis, we still have an annual pivot at $102.64 and a semiannual risky level at $110.75. The close of $101.23 on March 29 was the latest input to the analytics and resulted in a monthly value level at $97.40 and quarterly risky level at $116.81. These are the four horizontal lines on the chart.
The Weekly Chart for JPMorgan
Courtesy of Refinitiv XENITH
The weekly chart for JPMorgan is neutral with the stock above its five-week modified moving average of $101.67. A weekly close below $101.67 would result in a downgrade to negative, which would indicate risk to its 200-week simple moving average or "reversion to the mean" at $87.00. The 12x3x3 weekly slow stochastic reading is projected to decline to 56.40 this week down from 57.00 on April 5.
Trading Strategy: Buy weakness to its annual pivot at $102.64 and add to positions on weakness to its monthly value level at $97.40. Reduce holdings on strength to the 200-day simple moving average at $107.56, then on strength to semiannual and quarterly risky levels at $110.75 and $116.81, respectively.
How to use my value levels and risky levels:
Value levels and risky levels are based on the last nine weekly, monthly, quarterly, semiannual and annual closes. The first set of levels was based upon the closes on Dec. 31. The original semiannual and annual levels remain in play. The weekly level changes each week; the monthly level was changed at the end of January, February and March. The quarterly level was changed at the end of March. My theory is that nine years of volatility between closes are enough to assume that all possible bullish or bearish events for the stock are factored in. To capture share price volatility, investors should buy on weakness to a value level and reduce holdings on strength to a risky level. A pivot is a value level or risky level that was violated within its time horizon. Pivots act as magnets that have a high probability of being tested again before its time horizon expires.
Disclosure: The author has no positions in any stocks mentioned and no plans to initiate any positions within the next 72 hours.