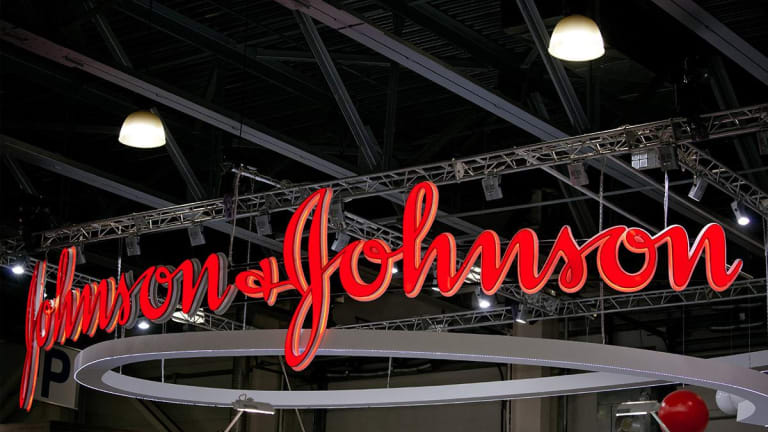 J&J Earnings Are Just What's Needed for a Breakout
Johnson & Johnson delivered a beat-and-raise quarter, which is just what the doctor ordered for a breakout. Let's look at the charts of JNJ stock.
Johnson & Johnson (JNJ) - Get Johnson & Johnson Report shares are near session highs after reporting earnings, although the stock is up just 2.1% to $133.50.
Despite all the whirlwind headlines with J&J stock -- ranging from billion-dollar punitive damages to its role in the opioid crisis -- the company reported a strong quarter.
The positive reaction to Johnson & Johnson's earnings is exactly what investors needed in order for the stock to gain some bullish momentum. The key now will be for J&J stock to not only hold onto that momentum, but build upon it.
The quarterly results should help. Third-quarter earnings of $2.12 per share beat analysts' estimates by 11 cents, while revenue of $20.73 billion easily topped expectations by $590 million.
The kicker, though? Management raised its full-year outlook, now expecting earnings in the range of $8.62 to $8.67 per share, up from a prior range of $8.53 to $8.63. They now expect revenue between $81.8 billion and $82.3 billion, up from a prior range of $80.8 billion to $81.6 billion.
With solid results and a strong outlook, investors should feel comfortable bidding JNJ stock higher into year-end.
Trading Johnson & Johnson Stock
As you can see on the chart, Johnson & Johnson stock has been mostly range-bound since summer. It has been stuck between $127 on the downside and $132 on the upside.
Earlier this month, J&J shares did temporarily moved above $132. However, investors saw the rally immediately stymied as it approached the 61.8% retracement, while the 200-day moving average kept a lid on the stock in the ensuing days. Eventually, shares fell back below range resistance at $132.
Now rallying on Tuesday, JNJ stock is above $132 resistance and is also above the 200-day moving average. The chart above is adjusted for dividends, but it's worth noting that on an unadjusted basis, Johnson & Johnson is still below its 200-day moving average, which is up at $134.49. I should also mention that the 100-day moving average is at $133.37 on an unadjusted basis.
So what's the setup?
Despite the role they've played lately, let's not worry about the moving averages for a minute. Instead, let's keep it simple. Over $132 is constructive, but below is more bearish and increases the odds JNJ fails to hold its gains and retests range support near $127.
Because of the strong report and subsequent rally, though, I'm more inclined to look at Johnson & Johnson stock through a bullish lens.
We now need to see a rally through this month's high of $134.70. At that point, JNJ stock will be above all of its major moving averages, unadjusted or not. Above $134.70 and the 61.8% retracement puts the 50% retracement near $138 on the table.
This article is commentary by an independent contributor. At the time of publication, the author had no positions in the stocks mentioned.