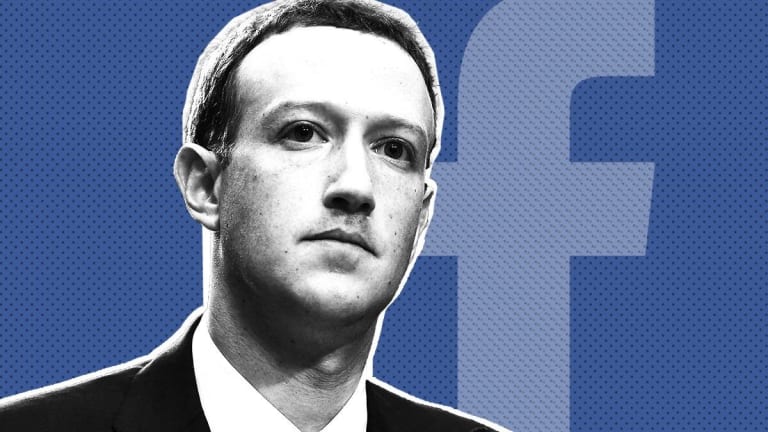 Is Facebook Stock Bulletproof? Top Wall Street Analysts Give Their Verdict
Stick with Facebook after a bad second quarter stumble? Here's what experts have to say.
What's that sound? It's the Facebook empire bleeding about $17 billion from CEO Mark Zuckerberg's net worth.
That's right, the social media behemoth is plunging almost 19% in value Thursday. Count $130 billion in market value down the drain in the tick of a few hours on the clock.
Investors are none too pleased with Facebook's rocky second quarter print. Not since the first quarter of 2015 has Facebook come up short of the Street's expectations.
To add insult to injury third and fourth quarter numbers for revenue aren't looking so hot either. Revenue is primed for a downturn in the "high single digits" per quarter.
We turn to TipRanks' real-time market data to explore what best performing analysts recommend in the wake of Facebook's quarterly fiasco. Is it time to retreat the large-cap internet stock or buy into the massive pullback? Let's take a closer look. 
Q2 User Numbers: A Big Red Flag
Here's the thing: 22 million daily user adds for a quarter sound good, unless you're Facebook. That kind of sluggish quarter-over-quarter growth hasn't been seen in years. Other sore points for investors include (1) user growth landed flat at 185 million daily users in the U.S. and Canada, Facebook's key market; (2) Europe saw a downturn to 279 million daily users.
In other words, Facebook's key market (the U.S. and Canada) got zero new users for the quarter. Europe, which recently unleashed a new GDPR privacy-focused regulations, fell around 1 million in user growth. These new privacy rules have only just begun to weigh at Facebook. Investors fear worse from Europe numbers still to come.
How bad does the user growth picture look for Facebook in Europe? Bad enough that the company is not issuing guidance on monthly, nor daily, active users for the region. 
The Bullish Case for FB Stock: 'Even the Best Hitters Strike Out Sometimes'
Oppenheimer's Jason Helfstein - a top analyst ranked #27 out of over 4,800 analysts covered on TipRanks - still stands by Facebook's valuation, which remains "reasonable." What's the "most troublesome" item to the analyst? Facebook Stories.
Helfstein explains, "Not only does it move FB use-case closer to IG (sub-optimal for portfolio company), it continues trend of 'everythingification' of FB app, after failed experiment with FB Live, lackluster early results for FB Watch and unclear outcome w/FB Marketplace."
Valuation is as enticing as ever, and that keeps Helfstein confidently among the bulls. "Still, valuation for high-quality tech asset appears compelling at 20x P/E." Accordingly, the top analyst reiterates an Outperform rating on Facebook while reducing the price target from $225 to $200 (16% upside potential). 
Wells Fargo's Ken Sena reiterates an Outperform rating on Facebook with a $220 price target (27% upside potential) is more bullish than Helfstein. Sena makes a case that the company's "focus on stories in core Facebook speaks to the strong traction of Instagram." It's a "new chapter to the growth story." 
"While engagement levels for Facebook overall were largely stable (with the exception of some moderate flattening / declines in US / EMEA as anticipated), the promotion of Stories within core Facebook, which currently carry very little monetization (even on IG, where we estimate still Stories monetize at 1/4th the rate of feed), reveals that changes to Facebook are underway to tap that success (even where there is a price in monetization)," contends Sena.
Wedbush's Michael Pachter writes in a bullish research note that "even the best hitters strike out sometimes." Pachter reiterates an Outperform rating on Facebook while cutting his price target from $275 to $250. Nonetheless, this means Pachter still calls for a confident nearly 45% in upside potential for the challenged giant. In fact, the analyst says Facebook isn't budging from his committee's "Best Ideas List."
Monetization opportunities are just around the corner. Pachter believes Instagram, WhatsApp, and Messenger are all "under-penetrated," and Facebook has the opportunity to boost monetization in these services. Additionally, the analyst is not worried about Facebook keeping up with "rapid growth overseas."
The analyst does acknowledge the new fiscal 2018 guide was "more pessimistic than the Street had expected," causing the monster bearish stampede Thursday.
That said, Pachter makes a bullish case: "Despite a less robust outlook than we had previously envisioned, we continue to find many reasons to remain constructive on the story. Most importantly, the company is still growing users, and although the Facebook platform is beginning to see slowing growth, the company's other products are still seeing dramatic growth."
Pachter's prediction: Look for the tech giant to "get back on track by the end of 2019" along with "revenues and profits to grow for many years." Instagram boasts 1 billion plus users and "all Facebook apps" have hooked 2.5 billion unique monthly users. Pachter is not concerned here and anticipates "sustained EBITDA growth."
What about the sharp sell-off? Pachter dismisses it as "overdone and largely unwarranted." 
The Sidelined: 'Taking a Break from Being Friends'
Mark Kelley of Nomura fled the bulls today, downgrading Facebook stock to a Hold. Additionally, the analyst chopped his price target from $228 to $183 (6% upside potential). Odds are that management is simply "being overly conservative." All the same, the analyst explains, "our model has taken on an entirely new revenue growth and margin profile than what we were looking for headed into the print."
In a nutshell, Kelley cannot ignore Facebook's core user growth challenges: "With stagnating core user growth, we think there is too much near- to mid-term uncertainty to recommend shares at this point."
Top analyst Eric Sheridan at UBS joins Kelley on the sidelines, also downgrading Facebook to a Neutral rating. Sheridan is even less cautiously optimistic than Kelley in his expectations as he dials down his price target from $212 to $180 (4% upside potential). "We now see the risk/reward as balanced for Facebook going forward," warns Sheridan.
In a note called "Taking a Break from Being Friends," Sheridan asserts: "In our opinion, the new growth drivers (Instagram, Watch, Stories, Messenger/WhatsApp, VR) frankly aren't big enough over the short/medium term to alter the decelerating growth and margin pressure profile." Worthy of note, the analyst boasts an impressive ranking of #65, one of the best performing analysts on Wall Street. 
The Bearish Case: 'The Days of 30%+ Growth Are Numbered'
Brian Wieser of Pivotal Research continues to be a Facebook bear, taking his price target down another notch to $140. This translates to close to 19% in loss potential Wieser bets Facebook still has to fall.
Why is Wall Street so shocked by the dip in Facebook's third and fourth quarter expectations? Wieser already saw the negative writing on the wall: "Such a development should not be surprising given our view that digital advertising and advertising more generally has real limits to growth, although we recognize that most of the investment community has ignored this consideration, which we considered an inevitability, if one that might have been a little further off."
Wieser has delved into researching the advertising industry, one that with "digital advertising no less" suffers from a barrier to growth. This is the main issue "constraining Facebook's revenue opportunity," adds the analyst.
Bottom line: the guide tells a bearish future ahead for Facebook, one that hints "while the company is still growing at a fast clip, the days of 30%+ growth are numbered." 
The Verdict: What's Next?
Ultimately, TipRanks analytics still speak to bullish sentiment on Facebook's side. Since delivering the second quarter print, Facebook has received 12 buy ratings, which amounts to a total of 29 in the last three months. Only three analysts are sidelined on the stock, with a sole bear running for the hills. The 12-month average price target boils down to $213.97, marking almost 21% in upside potential.
Wall Street isn't giving up on Facebook just yet.
TipRanks.com offers exclusive insights for investors by focusing on the moves of experts: Analysts, Insiders, Bloggers, Hedge Fund Managers and more. See what the experts are saying about your stocks now at TipRanks.com. Author: Julie Lamb.