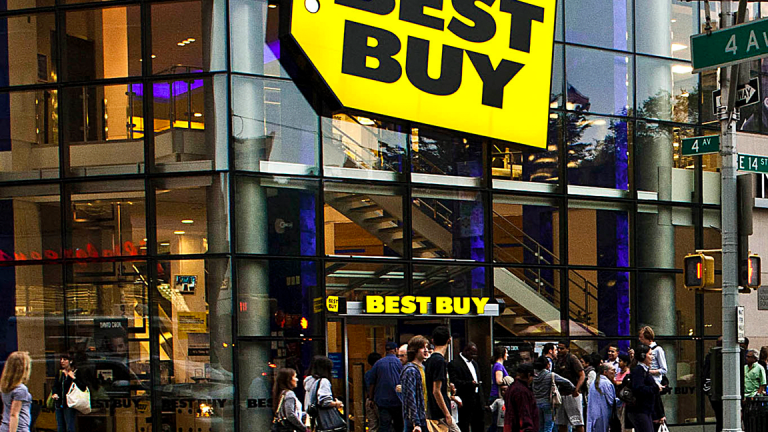 Best Buy's Reality Is More Complicated Than Just Losing to Amazon
Best Buy reported slower online sales, but this doesn't necessarily mean the retailer is losing to Amazon. The relationship between the two companies is more complex than that.
Best Buy Co.'s  (BBY) - Get Report stock took a dive on slow online sales, but there's more to the story than competition from Amazon.com Inc.  (AMZN) - Get Report .
In its Monday earnings release, Best Buy beat analyst consensus nearly across the board, reporting revenue of $9.38 billion versus expected $8.28 billion, adjusted earnings per share of 91 cents versus 83 cents, and an increase of 6.2% in same-store sales, which well surpassed expectations of 3.7%. 
Despite the strong news on revenue, earnings and in-store sales, Best Buy shares were down more than 5% Tuesday upon a lower-than expected outlook for third quarter, with the retailer projecting profit of 79 to 84 cents per share versus the 94 cents anticipated by analysts. It also reported slowing growth in online sales, with domestic online sales rising 10.1% last quarter as compared to 31.2% percent during the same time last year.
Best Buy's CEO, Hubert Joly, blamed a "maturing" market for electronics sales as a factor in the slow online sales: "Consumer electronics was one of the first categories in that study to move online. So the overall penetration is higher than in other categories," he said on a call with investors.
But the executives also spent time talking up the characteristics of Best Buy's business that online-only retailers, namely Amazon, can't easily replicate: providing in-store experiences like sales support, tech help and the ability to showcase products in person. 
"We can showcase these technologies in a unique way that no one else can," added Corie Barry, Best Buy's CFO.
Best Buy is betting that their strengths in providing in-store experiences will help stave off competition from Amazon. Customer preferences may lean in favor of that idea, with 81% of consumers preferring to buy electronics in stores according to the commerce researcher StellaService. Instead of scrambling to beat Amazon in online sales, Best Buy executives are embracing its brick-and-mortar DNA.
In April for example, Best Buy and Amazon forged a partnership that illustrates this theory. The partnership, which made Best Buy the exclusive brick-and-mortar sales channel for Amazon's line of Fire smart TVs, was described by Amazon in a press release as "an example of Best Buy's unique role in working with the world's foremost technology companies, helping to commercialize their innovations and bring them to life for the consumer."
A shrewd strategy, or sleeping with the enemy? Some analysts like Wedbush's Michael Pachter see the arrangement as risky, likening the partnership to inviting "the fox into the henhouse," he said. The two companies have had a long history that has danced between adversarial and collaborative.
Others are more optimistic. Moody's Charlie O'Shea believes that the companies' long relationship has landed more in the "mutually-beneficial" category for several years. 
"Best Buy gets new devices that will drive foot traffic into its stores, and Amazon gets a brick-and-mortar showroom for more of its proprietary products," O'Shea said of the partnership. "In sum, a win-win." 
Amazon is a holding in Jim Cramer's Action Alerts PLUS Charitable Trust Portfolio. Want to be alerted before Cramer and the AAP team buy or sell AMZN and KSS? Learn more now.