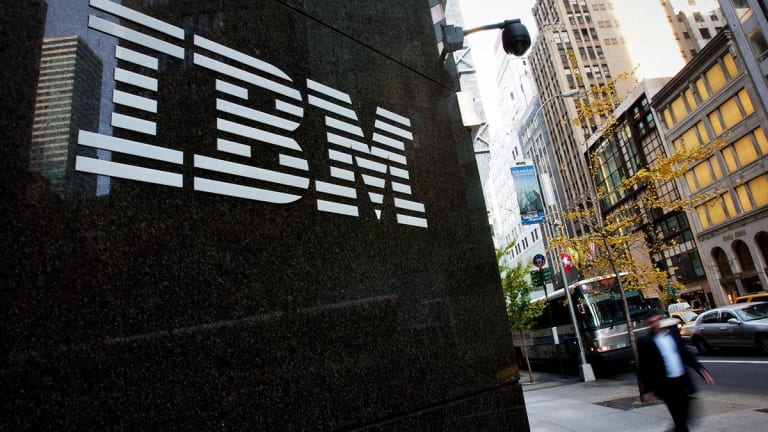 IBM's Organic Revenue Growth Still Leaves a Lot to Be Desired
Though the Red Hat acquisition will boost IBM's top line in the coming quarter, many of its existing businesses continue to see little or no revenue growth.
Solid numbers from newly-acquired Red Hat will only mean so much for IBM (IBM) - Get International Business Machines Corporation Report  if it can't address the top-line pressures it's facing in various existing businesses.
Big Blue's stock is down more than 5% after the company did something it has done quite a few times in recent years: Beat EPS estimates with the help of a lower-than-expected tax rate (this time around, the rate was a mere 0.1%), but miss revenue estimates while reporting little or no revenue growth for a slew of key businesses.
IBM did reiterate full-year guidance -- shared in early August, after the Red Hat deal closed -- for non-GAAP EPS of "at least" $12.80 and free cash flow (FCF) of roughly $12 billion. However, on the earnings call, CFO Jim Kavanaugh forecast IBM's revenue during the seasonally big fourth quarter will only be up about 3.5% to 3.7% sequentially.
Even after factoring the impact of forex pressures and Red Hat accounting adjustments (more on that shortly), that outlook suggests Q4 revenue will be below a pre-earnings FactSet consensus estimate of $21.98 billion. The consensus has dropped by $270 million thus far, and it wouldn't be surprising to see it drop further as more analysts react to the Q3 report and call.
Officially, IBM's revenue fell 3.9% annually in Q3. As the company is quick to note, revenue was pressured by the sale of IBM's mortgage servicing and Watson marketing software businesses, as well as the sale of several software businesses to India's HCL Technologies. But on the flip side, IBM recorded $371 million in Red Hat revenue in Q3 ($21 million more than expected), after having closed its $34 billion deal to buy the open-source software giant early in the quarter.
There will be a lot more Red Hat revenue recorded in Q4, given that Red Hat's Q3 revenue was actually $987 million (up 19% annually) after adjusting for revenue recorded prior to the acquisition, sales between Red Hat and the rest of IBM and (most notably) changes to Red Hat's deferred revenue balance. Nonetheless, the Q4 consensus estimate still implies IBM's revenue will be down slightly on an annual basis.
IBM's Cloud & Cognitive Software segment, which covers much of its software operations (including, now, Red Hat) and remains its most profitable reporting segment, continues underperforming an enterprise software market that's growing at a high-single digit clip. Officially, the segment's revenue grew 6.4% to $5.28 billion. But on an organic basis (adjusting for both the Red Hat deal and software divestitures), it looks as if growth was in the low single digits. A 5% sales decline for IBM's transaction processing software was a headwind.

Quite a few IBM businesses posted revenue declines in Q3. Source: IBM.
IBM's Global Technology Services (GTS) segment is also underperforming its peer group. GTS revenue fell 5.6% in Q3 to $6.7 billion, with IBM noting that in-quarter sales volumes (i.e., revenue that didn't stem from IBM's services backlog going into the quarter) were weaker. And on the call, Kavanaugh said it's prudent for IBM "not to plan on anything better" in terms of Q4 GTS performance.
The Global Business Services (GBS) segment is performing a little better: Its revenue rose 1% in Q3 to $4.11 billion. Kavanaugh forecast GBS would see growth in the "very low single-digits" in Q4 amid tough annual comparisons.
IBM's Systems (hardware and operating system software) segment, which saw revenue drop 14.7% in Q3, will get a boost in Q4 from a mainframe upgrade cycle -- late in Q3, IBM began shipping its z15 mainframe, which packs some innovative encryption features and comes with strong Red Hat software support. But while the z15 will provide a sales boost, IBM's Power server business appears to be struggling: Power revenue fell 29% last quarter amid tough comps and weak enterprise server demand. Storage sales (down 4% in Q3) also don't look that great.
To be fair to IBM, markets have priced in a lot of the company's struggles. Even after tacking on tens of billions in debt to pay for Red Hat, IBM sports an enterprise value (market cap plus net debt) that's equal to less than 12 times its expected 2020 FCF.
But needless to say, ignoring the weak top-line performance of a cheap tech stock is just as misguided as ignoring a rich valuation granted to a faster-growing company. Until and unless Big Blue starts delivering better organic revenue growth -- particularly in IT services and its non-Red Hat software operations -- value-oriented tech investors are better off
taking a page from Warren Buffett
and looking elsewhere.