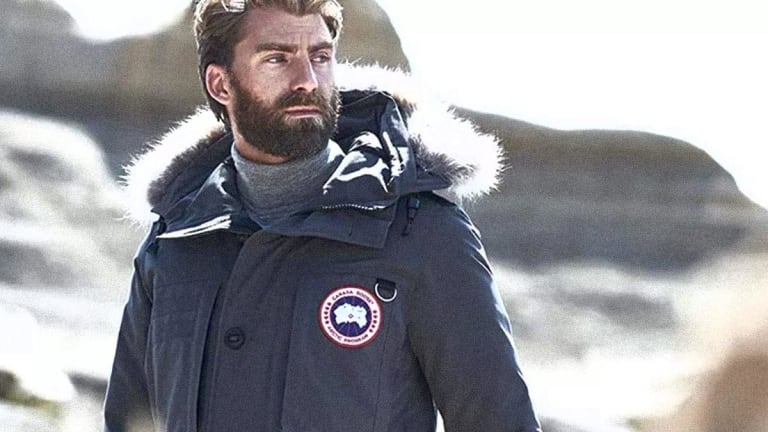 How to Trade Canada Goose Stock's Wild Plunge
Canada Goose stock is getting pummeled on earnings. Now, though, shares are in trouble.
It's a tough day in retail, as the sector is getting pounded in the midst of earnings season. Canada Goose (GOOS) - Get Canada Goose Holdings Inc. Subordinate Report  was a victim as well, closing lower by more than 30.8% in Wednesday trading.
Shares are hitting new 52-week lows in the sessions, despite Canada Goose reporting fourth-quarter earnings of 9 cents per share, 5 cents ahead of expectations Wednesday morning. However, revenue of C$156.2 million missed expectations for C$156.8 million. Management provided a three-year outlook that includes "at least" 20% revenue growth and 25% earnings growth, but that's down big from this year's 40.5% revenue growth and earnings growth of 61.9%.
Is Canada Goose a bad company? No. But it happened to report a revenue miss ahead of its slowest quarter and issue guidance that is not being well received. Also, the retail industry is getting destroyed right now and sentiment couldn't be worse. Essentially no one wants to own retail right now -- Canada Goose stock included. Just look across the space, with Abercrombie & Fitch (ANF) - Get Abercrombie & Fitch Company Report , American Eagle (AEO) - Get American Eagle Outfitters Inc. Report , Dick's Sporting Goods (DKS) - Get Dick's Sporting Goods Inc Report and others getting smacked.
So what now? Let's look at the charts. 
Trading Canada Goose Stock
Canada Goose is a high-growth retailer that's now running into some serious trouble on the charts. After spiking back from its December lows near $40 and rallying to almost $60 in February, GOOS stock has been putting in a series of lower highs. The 200-day moving average turned into resistance in late-April, with the 20-day and 50-day moving averages joining in on the resistance party earlier this month. 
Shares continued to bounce along ~$47.50 support, but there were signs pointing to trouble. The lower highs were the first sign and the moving averages were the second. Regarding the latter, not only did they begin acting as resistance, but they also began trending lower. That said, uptrend support (purple line) was guiding Canada Goose stock into a multi-month wedge, telling investors that they could expect a big move in the share price when it eventually broke. We just didn't know the direction -- until Wednesday. 
With the fall, shares are tumbling into no man's land. GOOS stock dropped below all sorts of support levels, blowing through the 2019 and December lows, as well as prior channel support (blue line) near $37.50. Simply put, this one is being hammered and there's no telling what level will step in to save it. 
The last time we saw this much volume came in mid-February. Canada Goose stock suffered a two-day decline before bouncing on the third day. Will that happen again? It's tough to say. All I know is, GOOS stock is not giving investors the all-clear right now.
I would give the stock a few more days to see if and where it bottoms. That would give the stock a chance to exhaust the selling and see where buyers come in. On a rebound, I want to see how Canada Goose stock does with the $37 to $38 area. In other words, I want to see if it can reclaim this area so it will act as support, or if a rebound to it acts as resistance. If it's the latter, a retest of the 2019 lows will be on the table. 
This article is commentary by an independent contributor. At the time of publication, the author had no positions in the stocks mentioned.