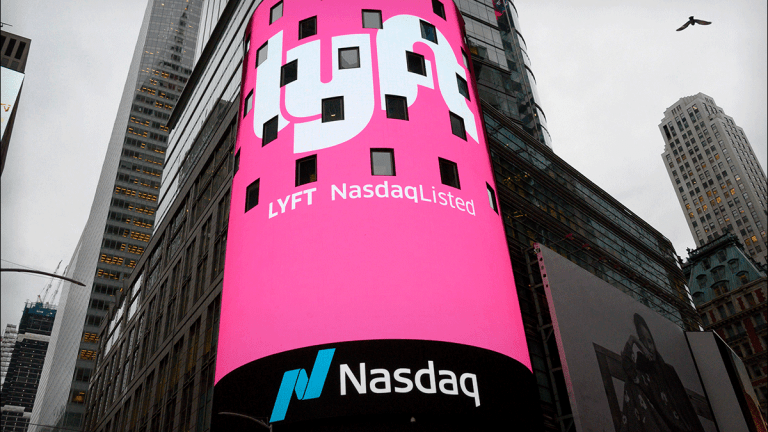 Here's How Lyft Can Rally 14% Back to Its IPO Price
Lyft rises after beating earnings and revenue expectations. Can it get back to its IPO price now?
Lyft (LYFT) went public ahead of its much larger competitor Uber (UBER) at the end of March. The stock was priced at $72, opened dramatically higher at $88 in its first day of trading and then promptly fell flat on its face.
After holding support at $57.50 this month, the stock began moving higher. However, Lyft shed most of its gains throughout the session, finishing higher by just 3% at $62.10 on Thursday. Shares were rallying on Lyft's better-than-expected quarterly results.
A loss of 68 cents a share was far narrower than analysts estimates. Revenue jumped 71.8% year over year to $867.3 million and beat analysts' expectations by more than $55 million.
Management also gave a significant hike to its full-year outlook. Lyft now expects revenue in a range of $3.47 to $3.5 billion vs. a prior range of $3.28 to $3.56 billion and ahead of consensus estimates at $3.32 billion.
Investors are hoping the strong report is what Lyft needs to get the stock some much-needed momentum to push it back to its IPO price, which is still almost 14% above current prices.
It's also what caused Real Money contributor Stephen "Sarge" Guilfoyle to title his piece, "Windshield's Still a Bit Foggy, But Lyft Appears Headed in Right Direction." Fitting for Real Money's stock of the day.
Trading Lyft Stock
Lyft stock gapped back over the 20-day and 50-day moving averages in Thursday's trading session. It is now prudent that the stock continues to hold these marks as support.
Should it fail to do so, it puts the $57.50 lows back on the table. Seeing as though the company just delivered a top- and bottom-line beat and hiked its full-year outlook though, it's hard to imagine momentum waning that quickly, short of a market-wide correction. It's already got some analysts back on its side too. 
Respect these moving averages on the long side and bulls will have some proper risk management with Lyft stock.
On the upside, I am watching the $67 level. This mark played the support role in the first few days of Lyft's public trading, but has been resistance since. A move over this level opens up the door to the $72 IPO price.
From there, Lyft will either need to breakout over this level or consolidate below it. Worth mentioning is that channel resistance (blue line) currently comes into play near $72 as well. If a rally occurs and depending on how long it takes to move higher, Lyft could push through $72 before hitting resistance at slightly higher levels.
The bottom line: Watch the 20-day and 50-day moving averages on the downside. On the upside, watch $67 to $68 (the 50% retracement). Over this area and $72 is on the table.
This article is commentary by an independent contributor. At the time of publication, the author had no positions in the stocks mentioned.