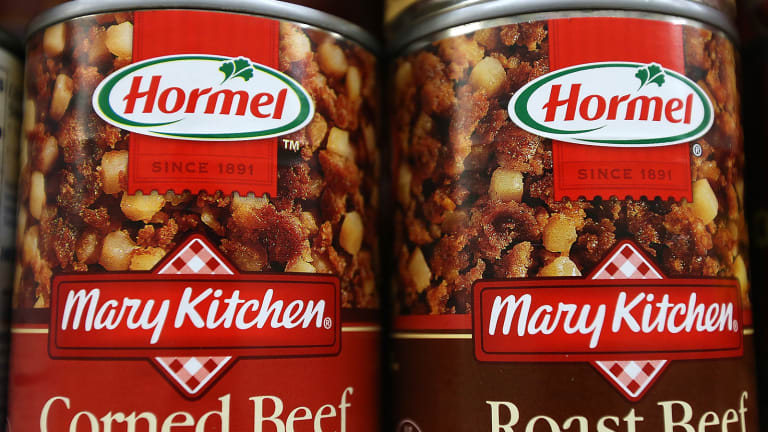 Hormel Tops Fourth-Quarter Earnings Estimates, Misses on Revenue
Hormel, the maker of food brands such as Skippy and Spam, tops analysts' earnings estimates and the stock rises.
Shares of Hormel Foods (HRL) - Get Hormel Foods Corporation Report  , the maker of food brands such as Skippy and Spam, were rising nearly 4% Tuesday after the company reported fourth-quarter earnings that topped analysts' estimates though sales came up short.
The company reported earnings of 48 cents a share on revenue of $2.5 billion, a decline from the $2.52 billion it reported a year ago. Analysts were expecting the company to report earnings of 46 cents a share on revenue of $2.51 billion. 
For 2020, the company expects to report net sales between $9.5 billion and $10.3 billion with earnings expected to be between $1.69 and $1.83 a share. 
Cash flow from operations decreased 26% year over year to $923 million in the quarter, due to what the company said were higher levels of working capital. 
"In 2020, we expect to grow operating income as we did in 2019 while also growing sales. We are excited about our growth prospects in food service, retail and deli," said CEO Jim Snee. "I am confident we have the right strategy, business model and leadership team to continue delivering long-term sustainable growth."
Hormel shares have declined 2.69% over the past 52 weeks but have risen 4.34% in the last three months. Tuesday's earnings beat should keep that momentum going. 
The stock was rising 3.87% to $44.42 in trading Tuesday. 
"Refrigerated Foods has been a strong earnings contributor all year, and this quarter was no different. I am proud of how our value-added businesses helped offset another steep decline in commodity profits," Snee said. 
Hormel announced Monday that it raised its annual dividend to 93 cents a share from 84 cents. The company will make its first quarterly dividend payment on Feb. 18, 2020, to shareholders of record on Jan. 13.