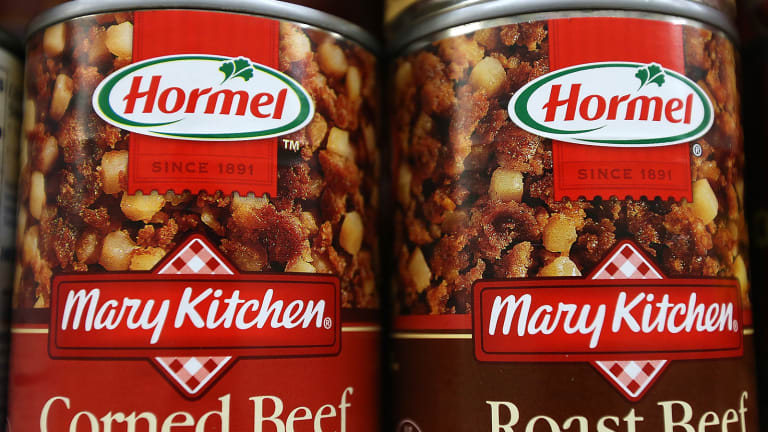 Hormel Foods Says Sales to Take a Hit From African Swine Fever
Hormel Foods reports quarterly earnings that beat analysts' forecasts, though it warns that African swine fever affecting global hog and pork production and prices will affect future revenue.
Hormel Foods (HRL) on Thursday reported quarterly earnings that were in line with analysts' forecasts, though warned that the impact of African swine fever on hog and pork prices affected its quarterly sales, and will continue to impact revenue and earnings.
The maker of Spam and other processed meat products said it earned $282.4 million, or 52 cents a share, in its fiscal second quarter, up from $237.4 million, or 44 cents a share, in the comparable year-earlier period. Analysts polled by FactSet had been expecting per-share earnings of 45 cents.
Sales rose to $2.34 billion, above the $2.33 billion in sales the company posted in the same period last year but shy of FactSet consensus estimates of $2.4 billion.
The company lowered its fiscal 2019 earnings guidance range, however, based on higher costs related to the impact of African swine fever in the second quarter and expectations of volatile domestic pork prices in the second half of fiscal 2019.
"In spite of record sales, second-quarter earnings did not meet our expectations," Hormel CEO Jim Snee said in a statement. "African swine fever in China started to impact global hog and pork markets this quarter, which led to rapidly increasing input costs. In response, we have announced pricing action across our branded value-added portfolio in the Grocery Products, Refrigerated Foods and International segments."
The company now anticipates net sales of between $9.5 billion and $10 billion, and earnings per share of between $1.71 and $1.85. It had previously been forecasting sales of between $9.7 billion and $10.2 billion and per-share earnings of between $1.77 and $1.91. Analysts polled by FactSet had been expecting full-year earnings of $1.79 a share.
Trading activity in hog and pork futures as well as other commodities used to feed hog livestock has spiked in recent weeks amid increasing concern over the African swine fever epidemic, which market-watchers are expecting will impact hog and pork prices for companies like Hormel.
"We've seen a 10-fold increase in our lean hogs contracts here in Canada since the epidemic first came to light," says Michael Yeung, head of Canada with electronic trading platform provider CMC Markets Canada.
"As it is becoming increasingly apparent that this isn't an issue that can be resolved overnight, we're starting to see a similar increase in contracts on soy, corn and canola," Yeung said.
Shares of Hormel were down 4.5% at $37.69 in early trading on the New York Stock Exchange. The stock has fallen about 8% since the company last reported earnings on Feb. 21.