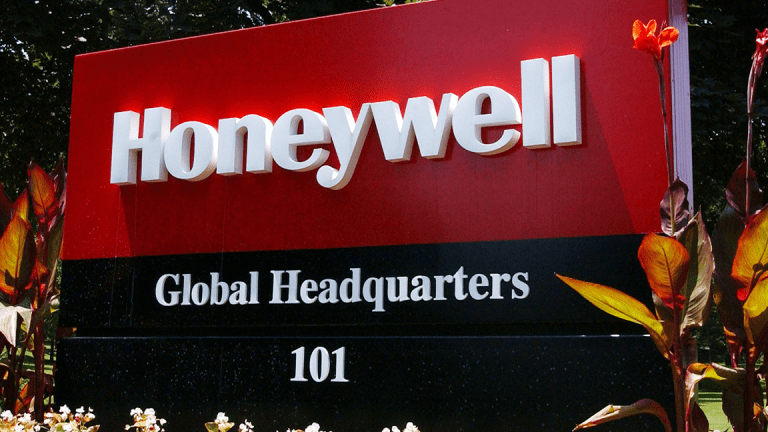 Honeywell Gains Most in More Than Two Years on Growth Prospects
Aerospace unit remains workhorse with 8% year-over-year growth, while the future potential for safety and product solutions impresses analysts thanks to a budding customer relationship with Amazon.
Big day for Honeywell.
Honeywell International Inc. (HON) on Friday, July 20, rose the most in more than two years after posting one of the better performances among a pure-play industrial stock since the threat of a trade war with China emerged, thanks to a solid earnings beat and exceptional growth outlook for two of its key business divisions. 
The $115 billion company's stock gained $5.45, or 3.7%, to $153 a share after the company posted adjusted second quarter earnings of $2.12 a share on revenue of $10.92 billion, beating both top- and bottom-line expectations. Analysts surveyed by FactSet Research Systems Inc. anticipated earnings of $2.01 per share on sales of $10.81 billion. 
"This quarter, HON delivered another solid beat," Deutsche Bank Securities Inc. analyst Nicole DeBlase wrote in a note to clients Friday. "We were particularly impressed with results within Aerospace, [Safety and Product Solutions] and [Performance Materials and Technologies]."
Honeywell also raised guidance on full-year earnings by 2% to at the mid-point to between $8.05 abd $8.15 per share from between $7.85 and $8.05 per share. 
The two things that stood out most in the earnings statement and ensuing conference call were the strength of the aerospace division's year-over-year growth, which stood at 8% Friday, and the future of its safety and products solutions unit, according to Jeff Marks, senior portfolio analyst for Jim Cramer's Action Alerts PLUS Charitable Trust Portfolio. 
The SPS unit, which is a key segment to the AAP's investment thesis due to its "massive total addressable market opportunity, saw revenue increase 13% year over year to $1.6 billion and demonstrated how powerful a business it can become for Honeywell, Marks said in a note to clients. 
"The strengths within these two segments will only shine brighter once the company spins out [Home and Building Technologies], and we like this name more and more as we get closer to the spinoff completion dates," he said.
Companies who announce major spinoffs like that of Honeywell's homes and transportation units often see their stocks pop on the news and trade in a holding pattern until the spinoff. Honeywell having been stuck in this holding pattern for the past several months since it announced the spin-offs may have something to do with its out-sized breakout Friday, beyond the earnings beat. 
Nevertheless, the outlook without those business is good without those businesses, especially given what will remain in the portfolio following the spinoffs, Marks and other analysts said Friday.
Honeywell sees substantial growth potential in its safety and product solutions business, largely thanks to its Intelligrated software enterprise, which improves the efficiency of warehouses for e-commerce providers and touts Amazon.com Inc. (AMZN) as one of its largest customers. 
"A lot of this business must be coming from Amazon, who Honeywell provides services for amongst many others," Marks said Friday. 
JPMorgan Chase & Co. analyst Stephen Tusa in May called the SPS business, with Intelligrated driving 5% of the segments growth on its own, the "single best segment growth story" in the electrical equipment and multi-industry sector, valuing the unit on a standalone basis at $6 billion. 
"Unlike others, the growth here is all accretive, with no cannibalization in the core, on the right side of technology disruption, enabling e-commerce fulfillment," Tusa said of the safety and product solutions business, comparing it to that of 3M Co. (MMM) , which "appears to be facing increased risk of having to spend more for less growth as their traditional channels to market are disrupted by AMZN."
Honeywell's largest competitor, United Technologies Corp. (UTX)  , reports earnings Tuesday, July 24, which may give analysts further insight into the strength of the aerospace industry, where the two companies dominate the services space. 
Amazon and 3M are also holdings in Action Alerts PLUS.