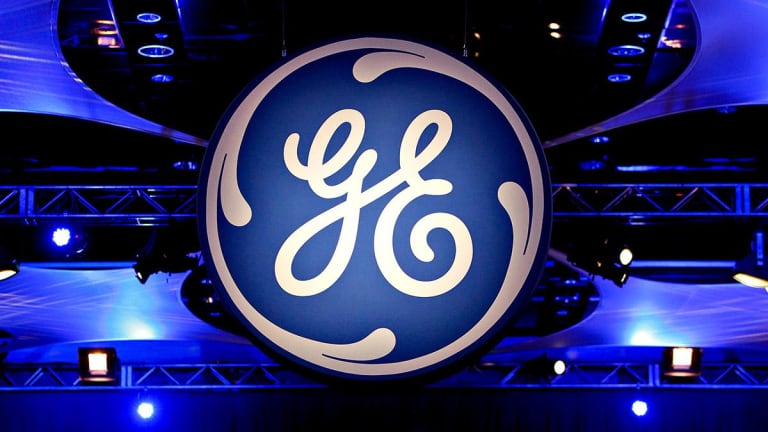 General Electric Trades Higher Despite Downbeat Profit Forecast for 2019 'Reset'
General Electric issued fresh 2019 earnings guidance Thursday that missed analysts' forecast, sending shares in the troubled industrial giant sharply lower in pre-market trading.
General Electric (GE) - Get General Electric Company Report issued fresh 2019 earnings guidance Thursday that missed analysts' forecast, while confirming it will burn as much as $2 billion in cash in its industrial division, as CEO Larry Culp warns that the first quarter of this "reset" year will be the weakest for the troubled conglomerate.
GE said it sees full-year 2019 earnings in the range of 50 to 60 cents per share, well shy of the Street consensus forecast of 70 cents a share. The group also said adjusted industrial free cash flow burn could reach $2 billion, but said that figure will turn positive by 2020.
The group's power division will also burn cash this year, GE said, but will see a rate of improvement in 2020 that is "significant", while free cash flows in healthcare will fall in 2019 before improving in 2020. GE also said the impact of U.S. tariffs on China-made goods would be in the region of $300 million to $500 million and that overall restructuring charges could be as high as $2.7 billion.
"GE's challenges in 2019 are complex but clear. We are facing them head on as we execute on our strategic priorities to improve our financial position and strengthen our businesses," said CEO Larry Culp. "We have work to do in 2019, but we expect 2020 and 2021 performance to be significantly better with positive Industrial free cash flow as headwinds diminish and our operational improvements yield financial results."
"We will continue to take thoughtful actions to reduce downside risk and increase upside optionality to create long-term value for our shareholders," Culp added in comments ahead of the group's investor day in New York.
General Electric shares were marked 2.84% higher following the guidance release to change hands at $10.30 each, a move that would extend the stock's year-to-date gain to around 29% and value the Boston, Massachusetts-based conglomerate at around $90 billion.
Earlier this month, Culp told the JP Morgan Aviation, Transportation & Industrials conference in New York that industrial free cash flow will swing from $4.5 billion in 2018 to a negative tally this year as "market pressures impacting volume" as well as "project and execution challenges" impact its struggling power division, according to materials used in the presentation.
Culp also said margins in GE healthcare would be similar to those recorded in 2018, with organic revenue in the low to mid-single digit range, a figure the group confirmed in Thursday's investor day presentation.
Culp has vowed that 2019 would be a "year of change" for the struggling group, and pledged to focus on both developing GE's critical power business while reducing debt through asset sales and spin-offs.
He also said the company's dividend, which was slashed to just one penny last year amid a series of profit warnings, asset write-downs and broader investor skepticism, allowed GE to retain around $4 billion in cash but would be returned to an industry-competitive level once the balance sheet was stabilized.
"Simply put, we have too much debt and we need to reduce it thoughtfully and soon," Culp said earlier this year. "Once we put our balance sheet in a healthier place, we'll be in a better position to play offense across all our businesses."
Culp, in only a few months at helm of the struggling group, has raised more than $21 billion through the sale of GE's biopharma unit to his former company, Danaher Corp. (DHR) - Get Danaher Corporation Report , and pledged to shed the group's healthcare division and reduced its stake in Houston-based oil services group Baker Hughes (BHGE) - Get Baker Hughes, a GE Company Class A (BKR) Stock Price, News, Buy or Sell Rating Report .