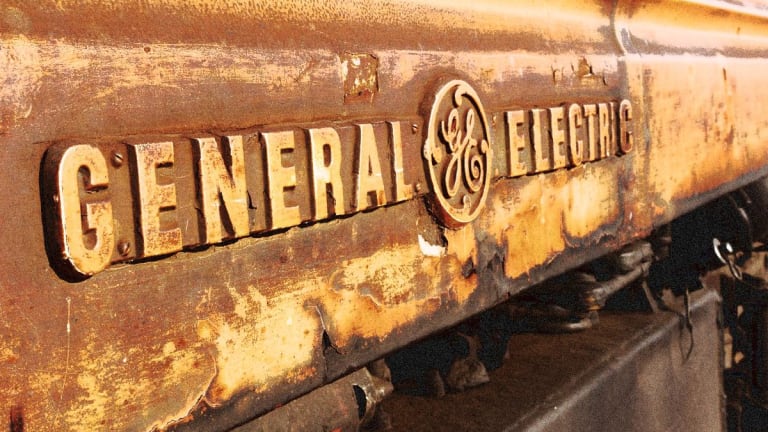 GE Stock Still Has Major Resistance Before Going Higher
General Electric stock is rallying on earnings, but GE stock still hasn't been able to get through resistance. Here are the levels to watch now.
Shares of General Electric (GE) - Get General Electric Company (GE) Report are rallying on Tuesday, up 4.25% to $10.15, after the company reported first-quarter earnings. 
However, shares are down notably from the pre-market and regular session highs. As investors will see in a moment, GE stock temporarily hurdled key resistance. Unfortunately, though, the stock could not sustain those levels, even after management reiterated its full-year guidance.
That came along with the company beating on earnings per share expectations, with its 14 cents per share in profit coming in 5 cents more than consensus estimates. Revenue of $27.3 billion fell 1.7% year-over-year but was in-line with analysts' estimates.
The quarter was a little better than expected, but management's confidence caused an initial wave of buying. It will now be up to bulls to take the stock higher or let it stagnate below resistance.
Trading GE Stock
Since February, GE stock has spent most of its time bouncing between $9 and $10.25 per share. After GE shot up toward $10.50 shortly after the open, it looked like the stock may be set to break out over all sorts of resistance zones.
Although the pullback is discouraging, that potential is still there in GE stock. The 200-day moving average has been one tough area of resistance, as seen on the chart above. However, General Electric stock is now holding up over that mark. It's also over the 20-day, 50-day, 100-day moving averages, all of which bodes well for the bulls.
That sets up a test for GE stock: Will it push through $10.25 range resistance (black line) and downtrend resistance (blue line) or will it eventually falter and fall below its major moving averages? Right now, the former seems more likely than the latter, but we won't know until it plays out. The stock is certainly not overbought and the MACD (blue circle) suggests momentum is turning in the bulls' favor.
GE's downtrend resistance line goes back quite a ways, but is clearly still playing a role. A move back to Tuesday's highs (and ultimately over it) would make GE stock much more attractive on the long side, as it would not only be over its post-earnings highs but also over a myriad of resistance levels. Let's see if it's able to maintain bullish momentum going forward.
This article is commentary by an independent contributor. At the time of publication, the author had no positions in the stocks mentioned.