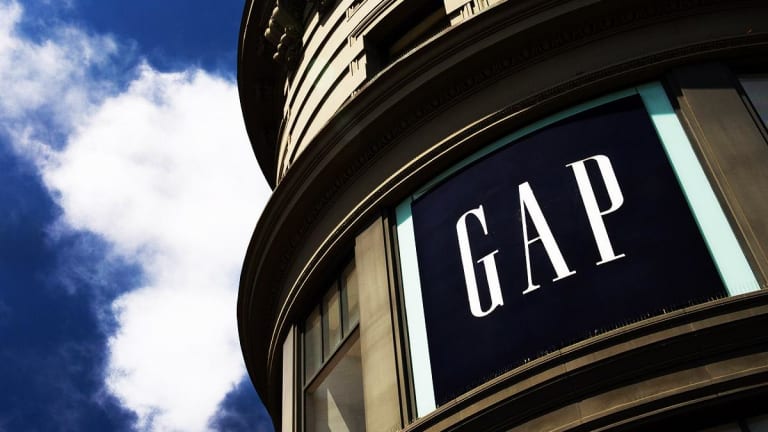 Gap Slides As Forecasts Slashed, CEO Peck Step Down; Confirms Old Navy Spinoff
Gap shares plunged Friday after the clothing retailer slashed its full-year earnings forecast and said CEO Art Peck would be stepping down, putting its recent restructuring plans at risk.
Gap Inc.  (GPS) - Get Gap, Inc. (GPS) Report shares slumped lower Friday after the clothing retailer slashed its full-year earnings forecast and said CEO Art Peck would be stepping down, putting its recent restructuring plans at risk.
Peck, who has led the group since 2015, had steered plans to close more than half of its Gap-branded stores and spin off its Old Navy division into a standalone business by 2020. He will be replaced by board chairman Robert Fisher, a member of the retailer's founding family. 
Separately, however, the Gap said it sees full-year earnings in the region of $1.70 to $1.75 per share, sharply lower than its prior forecast of $2.05 to $2.15 per share, and forecast a third quarter sale slump of around 4% across all of its retail brands, including Old Navy.
"This was a challenging quarter, as macro impacts and slower traffic further pressured results that have been hampered by product and operating challenges across key brands," said CFO Teri List-Stoll. "We have tremendous confidence in our brands and the talented organization that supports them, and we are seeing progress in some key areas. However, there is more work to do to leverage the capabilities we have invested in and deliver the profitable growth we know these brands are capable of delivering."
Gap shares were marked 7% lower at the start of trading Friday to change hands at $16.79 each, a move that would extend the stock's year-to-date decline to around 35%.
The Gap said Friday it continues to believe in the "strategic rationale for the planned separation of Old Navy," and will update investors during its November 21 conference call following a regularly-scheduled board meeting next wee,
Earlier this year, Peck unveiled plans to split off its better-performing Old Navy brand, telling investors it will be run by current brand CEO Sonia Syngal, while planning to have the Gap portion of the business, including Athleta, Banana Republic and Hill City brands, remaining under his control.
However, he also said it would close around 230 specialty stores over the next two years, a move that would result in annualized sales losses of $625 million and a pre-tax charge of as much as $300 million.
"In Old Navy, we have one of the fastest growing apparel retailers in the United States with the winning business model and an impressive runway for future growth, including capitalizing on opportunities like opening new stores and expanding into new product categories," Peck told investors in March. "The stand-alone company will have approximately $8 billion in annual revenue, and we'll be able to capitalize on this scale, broad consumer awareness and unique positioning to drive growth."
Credit Suisse analyst Michael Binetti, who carries a $14 price target on the stock with an underperform rating, sees a "very difficult path forward" for the group heading into the Christmas quarter.
"After the second negative revision to 2019 EPS guide, the CEO change does show GPS is acting with more urgency," he said. "That said, there was no mention of the Old Navy spin in the press release commentary. We continue to believe the pending spinoff of Old Navy will prove to be destructive to equity value."
"If Gap does back away from the spin, we think it will take a long time to create market buy-in
again that the company sees long-term value in the integration of these brands again," he added.