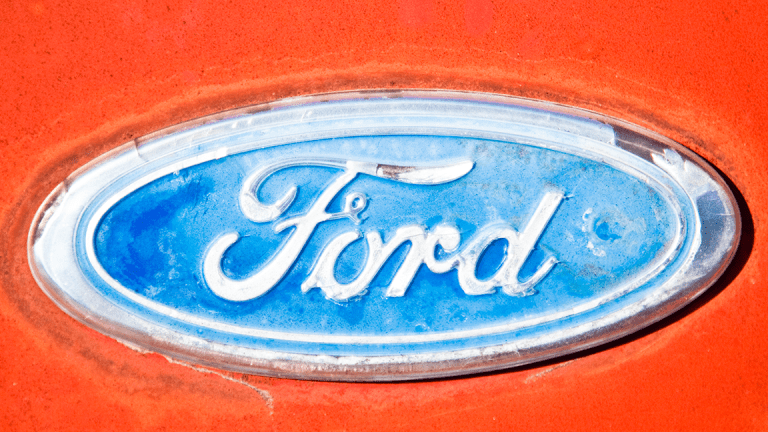 Ford Shares Surge After Q1 Earnings Beat as U.S. Sales Offset Global Weakness
Ford shares closed up Friday after the carmarker posted stronger-than-expected first quarter earnings thanks to a surge in U.S. demand for its iconic pick-up trucks.
Ford Motor Co. (F) - Get Report shares closed up sharply higher Friday, after the carmarker posted stronger-than-expected first quarter earnings thanks to a surge in U.S. demand for its iconic pick-up trucks that offset weakening international demand.
Shares ended up nearly 11% to $10.41, after Ford said earnings for the three months ending in March rose nearly 52% from the same period last year to a forecast-beating 44 cents a share. That's even as total revenues edged 3.9% lower to $40.34 billion as key markets in China continue to weaken.
U.S. sales, however, held steady at $25.4 billion, with healthy demand for trucks and SUVs in the company's home market providing $2.2 billion of its overall $2.4 billion in operating earnings for the quarter
"North America's EBIT improvement was driven by our F-Series, despite new competitive challenges; Ranger as it came to market, and Transit America's best selling van," Ford CFO Bob Shanks told investors on a conference call late Thursday. "The region's EBIT also benefited substantially from the decision to exit traditional passenger sedans."
"The strong financial performance of F-Series was matched by robust performance in the marketplace," he added. "In the quarter and in the face of new competitive entries, F-Series customer sales and average transaction prices held strong from a year earlier while share of segment increased."
Jim Cramer: Ford Understands How the Secular Winds Are Blowing
Ford shares were marked 9.7% higher by mid-day Friday to change hands at $10.32 each, a move that would extend the stock's year-to-date gain to around 31%, nearly double the 16.3.% advance for domestic rival General Motors Co. (GM) - Get Report .
Shanks, however, cautioned that the first quarter was likely to be the strongest of the year for Ford, even as the number 2. U.S. automaker cast an optimistic look into 2019.
Ford lost nearly half a percent of its global market share over the first three months of the year, thanks in part to a 48% plunge in unit sales in China and ongoing weakness in Europe and elsewhere, where regulations and demographics are driving major changes in the sector and pushing companies like Ford, Daimler AG and Volkswagen AG to invest billion in self-driving and clean-energy technologies.
Earlier this week, Ford said it would invest $500 million in sustainable energy automaker Rivian and hinted that an all-electric F-150 pick-up truck is already mid-way through its development cycle.
"With a solid plan in place, we promised 2019 would be a year of action and execution for Ford, and that's what we delivered in the first quarter," said CEO Jim Hackett. Our goal remains to become the world's most trusted company, designing smart vehicles for a smart world."