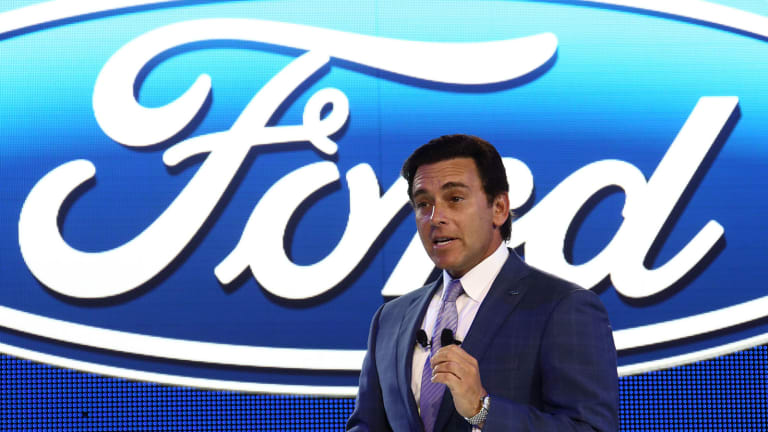 Ford Stock Jumps As Automaker Rolls Past Analyst Estimates
Ford shares shifted into overdrive in after-hours trading on Thursday as the No. 2 U.S. automaker cruised to a handy earnings beat.
Ford Motor Co. (F) - Get Ford Motor Company Report rolled out an SUV-sized earnings beat Thursday shortly after the closing bell, sending its stock price into overdrive in after-hours trading.
The No. 2 U.S. car maker reported earnings of 44 cents a share, compared to the 27 cents a share estimate of analysts surveyed by FactSet. Revenue came in at $40.3 billion, in line with estimates.
Automotive revenue came in at $37.24 billion, more than $800 million more than had been forecast.  
Ford's stock price rose swiftly in after hours trading on heels of its 4:15 p.m. earnings announcement, rising more than 8%, to $10.21, by 5:26 p.m. This came after a 1.46% drop to $9.43 during Thursday's session.
Ford is in the midst of a major restructuring. Expected to cost $11 billion over several years, Ford is shifting gears away from passenger cars towards more expensive, and profitable profitable SUVs and trucks.
While Ford reported a profit of $1.15 billion for the quarter, it was down 34% from last year, when the auto giant took in $1.74 billion, or 43 cents a share.
Most of its profits came from the U.S. market, Ford executives told reporters at the company's headquarters Thursday afternoon, with its  F-Series pickup trucks and its new Ranger midsize pickup trucks leading the way, Reuters reported.
Still, Ford's better than expected earnings kicked off on a positive note a spate of what is largely expected to be tough earnings reports by automakers, who are facing a slowdown in global sales.