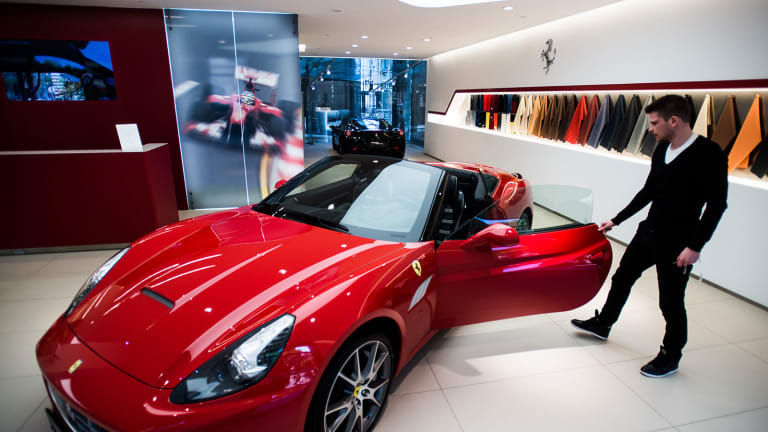 Ferrari's Stock Is Just Like Its Cars: A Sexy Beast
Ferrari is a performance beast -- and we're not just talking about the cars. A look under the financial hood shows startlingly good performance.
Ferrari is a performance beast -- and we're not just talking about the cars. A look under the financial hood shows startlingly good performance.
Auto stocks are stuck in the mud. Automakers don't have any growth. Car companies get an extreme valuation discount and have low margins.
Sounds familiar, right?
Maybe some (or all) of these generalizations apply to traditional automakers like Ford Motor Co.  (F) - Get Report , General Motors Co.  (GM) - Get Report and Fiat Chrysler Automobiles (FCAU) - Get Report .
But they don't apply to Ferrari NV (RACE) - Get Report .
On the surface, maybe the quarter didn't look amazing -- earnings of €0.78 euro beat estimates by €0.06, while revenue grew 1.2% to €831 million ($991.3 million) and slightly missed estimates.
However, those earnings are up 20% year-over-year from €0.65 in Q1 2017. On the revenue front, sales actually grew 6.3% adjusted for currency fluctuations. Look at just how much the bottom line expanded vs. the top line, which shows a big widening in margins.
Remember, unlike a number of stocks on investors' screens, Ferrari is not a huge beneficiary of the overhauled U.S. corporate tax code. While it did have a lower tax rate this year than in the same quarter of 2017, it was down just slightly from 28.5% last year to 27.9% this year.
The results get better. Operating cash flow jumped 40% year-over-year to €210 million, while free-cash flow jumped more than 14% to €89 million. It's no surprise that on Thursday shares raced to new all-time highs, before again jumping to new highs on Friday, hitting $136.04 near midday trading.
Sporting EBIT margins of 25.3% for an automaker is ridiculously good. Just imagine how well shares of Tesla Inc.  (TSLA) - Get Report would be doing if the automaker could achieve that mark! Net profit margins clocked in at almost 18%. 
Ferrari now boasts a market cap north of $24 billion.
Ferrari Transition
As you can see from the results above, business is quite robust under the hood.
Poking around a bit more, we can see where Ferrari is gaining some of that traction. First, the company's transition to some of its V12 engine offerings are going well.
From the press release:
"This achievement was driven by a 23.5% increase in sales of our 12 cylinder models (V12), while the 8 cylinder models (V8) were in line with prior year. The V12 strong performance was led by the 812 Superfast."
Ferrari said pricing and personalization programs also helped profitability. Generally speaking, these personalization programs -- be it for shoe companies like Nike (NKE) - Get Report or car manufacturers -- benefit margins and we saw that in Ferrari's first-quarter results.
In Q2, Ferrari fans can look forward to deliveries of the new Portofino, its hardtop convertible model that packs a punch and is replacing the California T. My early interpretation is that the Portofino will find itself in higher demand than the California T and will hopefully hold its resale value better (not that it affects me, but still).
According to CEO Sergio Marchionne, Ferrari's order book is pretty much maxed out for the year and into 2019. In fact, the only thing left? Just the GTC4 Lusso. "Everything else is pretty well gone," Marchionne said on the conference call.
Ferrari Could Be Testing a Completely Silent Hybrid Prototype
Let's not forget, a strong global economy is also a driving force here. While the Great Recession may have had some consumers partaking in the Cash for Clunkers program to get a new Chevy, super luxury cars were not exactly at the top of many buyers' list. 
Now, though, the global economy is heating up and at least for the time being, it's staying warm. Confidence is high and each region of the world Ferrari sells to saw a year-over-year increase in shipments. In fact, the Americas region was among the worst performers, contributing growth of "just" 4%.
China, Hong Kong and Taiwan was the best-performing region, with shipments up 14%. Overall, shipments rose 6% for the quarter.
This article is commentary by an independent contributor. At the time of publication, the author had no positions in the stocks mentioned.