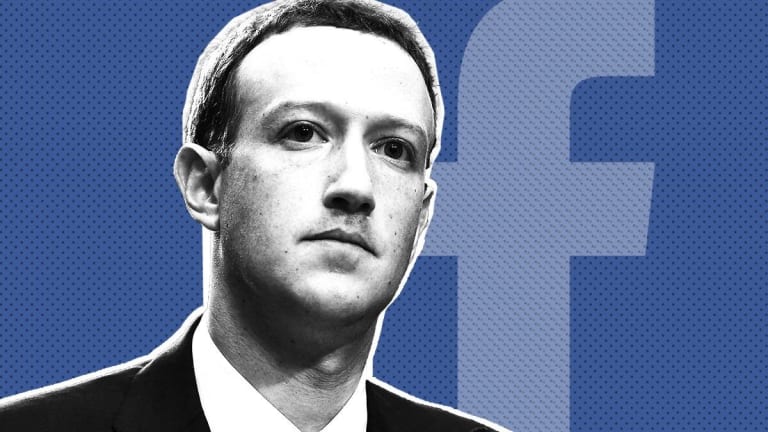 Facebook's Head Fake Is Your Sell Signal
The bad PR just keeps coming fast and furious, a more significant signal than the minor stock rise Thursday on a decent, but not spectacular, earnings.
It didn't take long for Facebook's (FB) - Get Free Report stock to lose the oomph from Wednesday evening's earnings beat. 
Facebook stock was up about 2.4% at $192.85 near Thursday's close, retreating from a high of a 5% gain earlier in the session. That follows the company reporting revenue that slightly topped consensus and an outlook for this quarter a little light of consensus.
You could blame the decline on muted economic data -- Chicago PMI numbers out this morning indicated a further move into contraction territory of the U.S. economy. Or you could blame it on Facebook being outshined by Apple (AAPL) - Get Free Report , which had an upbeat report, too, last night, and which is looking ahead to a strong holiday quarter.
But more than likely, there just isn't enough financial oomph in Facebook to overcome the cloud of concern that continues to hang over the company.
Things are not going to turn around quickly for the company. Facebook is still in the throes of the general public's long disillusionment with the company's ethics. Although the stock is up 46% this year, mega-cap peers Microsoft (MSFT) - Get Free Report and Alphabet (GOOGL) - Get Free Report are two companies with far less scandal that are arguably better bets for the year ahead.
Much of the company's quarterly conference call on Wednesday night was taken up with a long explanation by CEO Mark Zuckerberg of the way the company handles political ads, including ads the company acknowledges may consist of outright lies. Zuckerberg is one voice against a storm of critics.
Zuckerberg was taken to task last week by U.S. Representatives Maxine Waters and Alexandra Ocasio-Cortez for appearing to promote lies. It doesn't seem Zuckerberg has any friends at the moment to stand by him and vouch for the view on freedom of expression he is trying to elucidate. 
And then comes this: a scathing opinion piece in The New York Times today by screenwriter Aaron Sorkin, who wrote the 2010 movie about Facebook, The Social Network.
"That's not defending free speech, Mark, that's assaulting truth," is the key quote in Sorkin's piece, regarding the carrying of an ad on Facebook about Joe Biden that Sorkin claims is a lie in "every square inch." 
This latest round of dismal public discussion of Facebook is likely to only get more aggravated as the U.S. primary season gets underway. 
Balance all that really bad PR against the somewhat ho-hum present state of the company's business achievements. On Wednesday evening, Facebook announced revenue of $17.65 billion, just slightly ahead of the average estimate for $17.35 billion. Not bad, but nothing to write home about. It's been a while since the company saw revenue growth surprise expectations in a big way -- specifically, the 7.2% beat way back in the July quarter of 2016. 
Growth, moreover continues to slow. Revenue growth this quarter is expected in a range of 20% to 25%, year over year, which is less than the consensus estimate for 25.5% growth.
None of that gets the heart racing, and meanwhile, Apple delivered almost no revenue growth, at just 1.8%, but beat consensus estimates by over a billion dollars, at $64.04 billion. That means a lot more money in absolute dollars going into the coffers of a company that, unlike Facebook, returns capital to shareholders. The big event of earlier this year, the unveiling of Facebook's proposal for Libra, its own crypto-currency, is in disarray as the company has seen partners defect from the initiative. If Libra has to be discarded by Facebook, it would remove an area for potential growth that bulls had been looking forward to. 
Facebook stock is actually a good value strictly by the numbers compared to some of its large-cap peers. Its forward price-to-earnings multiple is just 20.94, less than the 23 times of both Microsoft and Alphabet stock. But both those companies are much less in the cross-hairs of regulators, even though all of mega-cap tech is in the sites of regulators in a general sense. 
TheStreet pointed out last week there is a general rotation to FAANG from pricey software names, a theme Jim Cramer has reiterated this week. If you want to bet big on mega-cap tech, both Microsoft and Alphabet offer much less controversial opportunities than Facebook.
Save 57% during our Halloween Sale. Don't let this market haunt you; join Jim Cramer's Investment Club, Action Alerts PLUS. Click here to sign up!
Facebook, Apple, Microsoft and Alphabet are holdings in Jim Cramer'sAction Alerts PLUS Charitable Trust Portfolio. Want to be alerted before Cramer buys or sells these stocks? Learn more now.
Tiernan Ray neither trades nor owns any shares of any companies discussed in this article.