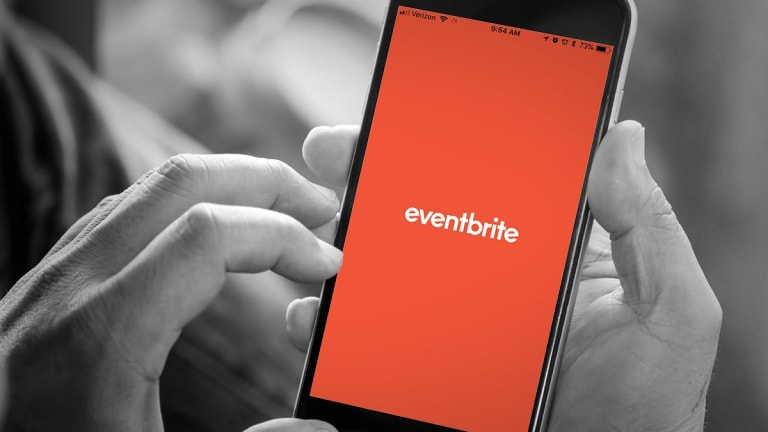 Eventbrite Crumbles on First Quarter Earnings Miss
Eventbrite tumbles to new low after missing first quarter earnings expectations.
Shares of Eventbrite (EB) tumbled nearly 30% to $16.93 Thursday after the event management and ticketing website missed Wall Street's first-quarter earnings expectations.
The San Francisco-based company reported a loss of $10 million, or 13 cents a share, compared with net income of $9 million a year ago. Revenue totaled $81.3 million, up from $74.5 million a year ago.
Analysts had forecast a loss of 8 cents a share on revenue of $83.1 million. For the second quarter, the company said it expects revenue of $74 million to $78 million. Analysts are calling for a loss of 6 cents a share and revenue of $82.4 million. 
"While we recognize we have multiple opportunities beyond ticketing, we appreciate that we will only earn the right to take on those possibilities if we deliver healthy growth for our business on a sustained basis," Julia Hartz, co-founder and CEO said during a conference call with analysts. 
Thursday's decline took the stock to its lowest levels since going public last September at $23.
In 2017, Eventbrite bought Ticketfly and merged the platforms rather than operate Ticketfly independently.
"We took on a substantial challenge when we acquired Ticketfly and spent time and resources to address the product demand and competitive landscape. This resulted in a complex and consuming integration process," Hart said.
Eventbrite also announced that Randy Befumo, its chief financial officer, will move into the role of chief strategy officer. Eventbrite said it will search for a new CFO to succeed Befumo, who will continue in his current role until his replacement is appointed.