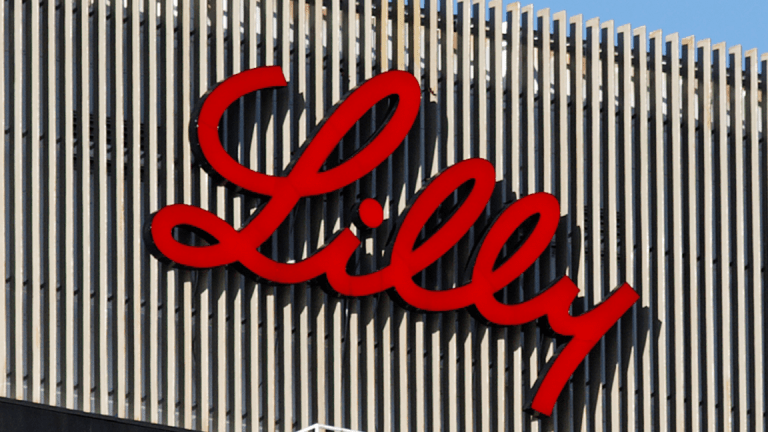 Eli Lilly Shares Climb on Earnings Beat
The Indianapolis-based pharmaceutical giant unveils second-quarter results that surpass analysts' top- and bottom-line estimates.
Eli Lilly and Co. (LLY) - Get Eli Lilly and Company Report shares were showing a healthy bump on Tuesday, July 24, after its earnings report.
The Indianapolis-based pharmaceutical giant reported second-quarter numbers before the opening bell that beat analysts' top- and bottom-line expectations and raised its revenue and non-GAAP earnings per share guidance while revising its EPS forecast on a reported basis downward.
The company also said it plans to pursue an initial public offering of a minority stake in its Elanco animal health business, a decision that marks the culmination of a strategic review for the unit that began in October.
Shares of Eli Lilly advanced 3% to $91.50 in premarket trading and in early trading were changing hands at $90.58, up 1.9%.
Eli Lilly reported non-GAAP EPS of $1.50, up 35% from the year-ago period. Revenue grew 9% to $6.36 billion, fueled by increased demand for new products including diabetes drugs Trulicity and Jardiance, Eli Lilly said in a statement.
Analysts had forecast, on average, non-GAAP EPS of $1.30 on revenue of $6.05 billion, according to FactSet Research Systems Inc.
For full-year 2018, Eli Lilly said it now expects EPS on a reported basis to be in the $3.19 to $3.29 range, compared with the previous guidance of $4.52 to $4.62. The company attributed the change to "higher acquired in-process research and development charges associated with the acquisition of Armo BioSciences, partially offset by higher revenue."
Eli Lilly acquired Armo BioSciences Inc., a Redwood City, Calif.-based immuno-oncology company, in a $1.6 billion deal announced in May and completed in June.
On a non-GAAP basis, Eli Lilly increased its EPS guidance to the $5.40 to $5.50 range from the previous forecast of $5.10 to $5.20 due to the firm's expectations of higher revenue and a higher gross margin.
The firm now expects full-year sales to be between $24 billion and $24.5 billion, compared with the prior projection of between $23.7 billion and $24.2 billion.