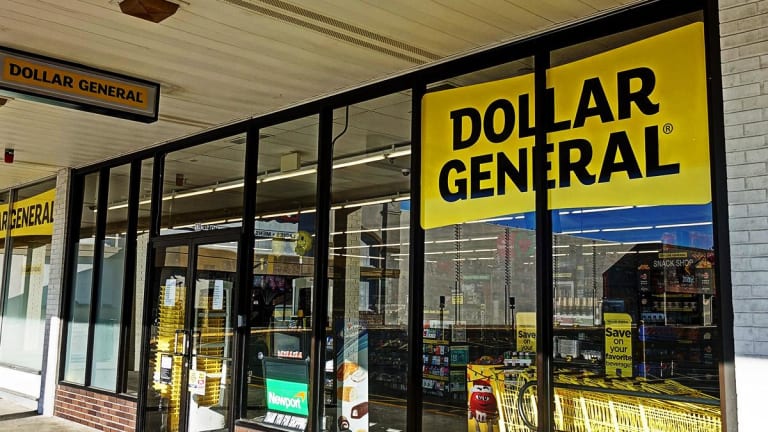 Dollar General Jumps on Better-Than-Expected Quarterly Earnings
Shares of discount retail chain Dollar General jump after the company reports quarterly earnings that surpass analysts' expectations.
Dollar General (DG) gained in early trading Thursday after the discount retail chain reported quarterly earnings that surpassed analysts' expectations.
The Goodlettsville, Tenn.-based company posted net income of $385 million, or $1.48 a share, in its fiscal first quarter ended May 3, compared with $364.9 million, or $1.36 a share, in the comparable year-earlier period. Analysts polled by FactSet had been expecting per-share earnings of $1.39.
Sales rose 8.3% to $6.62 billion from $6.11 billion; same-store sales - a key metric for retailers like Dollar General - gained 3.8%.
Dollar General shares jumped 7.76%, or $9.20, to $127.71 in afternoon trading on Thursday. 
The company said it repurchased roughly $200 million of its common stock during the quarter, or 1.7 million shares, under its share repurchase program, at an average price of $118.60 a share. At the end of the quarter, Dollar General still had an additional $1.1 billion to commit to buying additional stock.
Separately, the company's board of directors approved a quarterly cash dividend of 32 cents a share, payable on or before July 23 to shareholders of record on July 9. 
For the remainder of the fiscal year, Dollar General reiterated its guidance and store growth outlook issued in mid-March, which included net sales growth of approximately 7%, same-store sales growth of approximately 2.5% and per-share earnings of between $6.30 and $6.50.
Analysts polled by FactSet are currently forecasting earnings per share of $6.41 for the fiscal year.