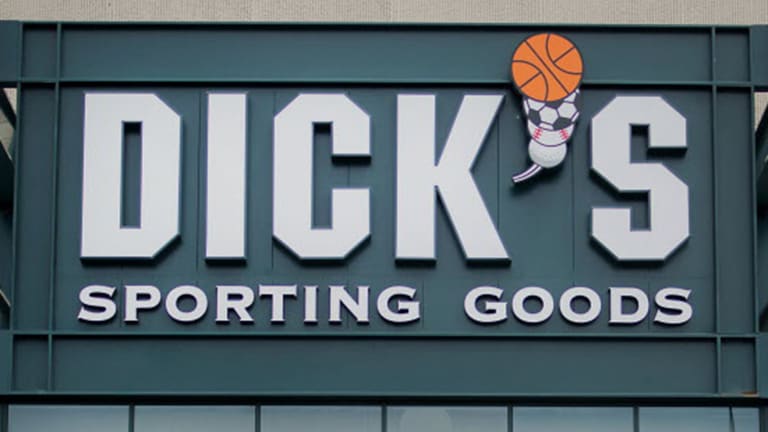 Dick's Sporting Goods Plunges on Earnings. Now What?
Shares of Dick's Sporting Goods are getting hammered on Tuesday, but the charts aren't totally destroyed.
Shares of Dick's Sporting Goods (DKS) - Get Dick's Sporting Goods Inc Report are getting creamed on Tuesday, closing lower by 11% to $34.60 after the company reported disappointing earnings results. More disappointing, though, is what's happening to the technical setup. 
With Tuesday's post-earnings fall, Dick's is crashing through major moving averages and dealing a big blow to its technical outlook.
Let's look at both a long-term and short-term chart of Dick's Sporting Goods to get a better idea of what's going on.
Trading Dick's Sporting Goods Stock
Starting with the one-year daily chart of Dick's, it's clear to see the stock's gap down below the 21-day moving average, and the decline right through the 50-day and 200-day moving average. The fact that it opened above the 50-day and 200-day but failed to stay above them is discouraging. It's also discouraging that DKS stock looked to be breaking out over $38 resistance.
The subsequent decline could leave shares to decline down to $32.50, a notable level over the past year. Although that leaves almost 6% downside for investors, it's better than the potential 13% decline they could suffer if we get a washout down to ~$30 in Dick's Sporting Goods stock.
Is there a bright side to all this? Let's look at the three-year weekly chart below.
It's clear how big of a level $38 was for Dick's Sporting Goods stock. After breaking over this mark two weeks ago, the stock was promptly rejected by the 200-week moving average. Given that it was the stock's first test in almost two years, the 200-week rejection is no surprise. Nonetheless, failing at $38 on a false breakout is discouraging to the longs.
On the plus side, though, the 50-week moving average is holding up as support -- at least, for now. I want to see how DKS stock does near this level over the next few days. If it stands pat, bulls can use this level as their support when getting long Dick's Sporting Goods.
Conversely, if this level fails, a decline into the low-$30s is possible before significant support comes into play. All is not lost, but there is still downside risk to Dick's.
As RealMoney's Bruce Kamich said, "I find that it is not helpful to try to analyze the news, but it is helpful to see how prices react to news." Kamich argued that while Tuesday's action was not a bullish development, the longer-term trend and outlook may still be OK.
A Special Invitation: Do you want to learn more about planning for and living retirement from the nation's top experts, including Ed Slott and Robert Powell, the editor of TheStreet's Retirement Daily? Want to learn how to create tax-efficient income in retirement and how to manage and mitigate all the risks you'll face in retirement? Then sign up to attend TheStreet's Retirement Strategies Symposium on April 6 in New York City. For a limited time, you can attend this extraordinary symposium for $149 -- a cost savings of $50 off the general admission price of $199. You can see the full day's agenda, learn about the guest speakers and sign up here for this special event.
This article is commentary by an independent contributor. At the time of publication, the author had no positions in the stocks mentioned.