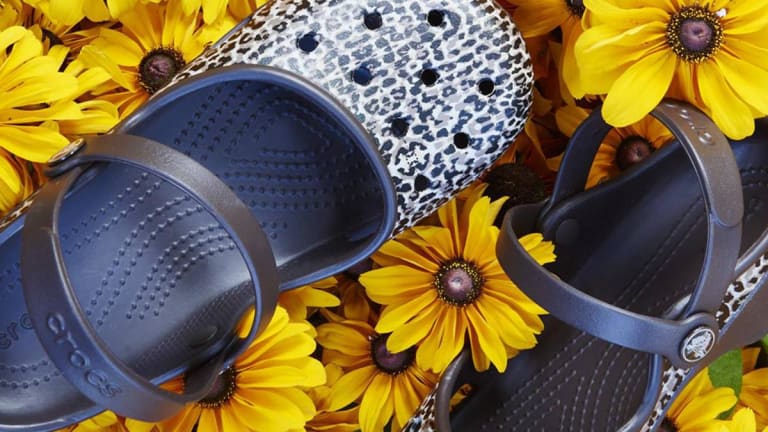 Crocs Treads Higher on Stronger-Than-Expected Earnings, Revenue Outlook
The revenue outlook for the full year is ahead of expectations even after accounting for two special costs.
Shares of Crocs (CROX) traveled higher in trading Thursday after the footwear maker produced second-quarter earnings that topped forecast and issued a full-year revenue outlook stronger than analysts expected.
Crocs shares were up 7% to $24.44.
For the quarter, the Niwot, Colo., company earned 55 cents a share, compared with 35 cents in the year-earlier quarter. Adjusted second-quarter earnings were 59 cents a share vs. 54 cents. Analysts surveyed by FactSet were expecting earnings of 45 cents a share.
On the top line, Crocs took in $358.9 million, up 9.4% from a year earlier. Analysts were looking for revenue of $361 million.
Comparable-store retail sales in the quarter rose by 11.8%. 
Selling, general and administrative expenses in the second quarter declined to 39.4% of revenue from 44% a year earlier.
For the full year, Crocs increased its estimate of revenue growth to a range of 9% to 11% from previous guidance of 5% to 7%. This indicates a top line for 2019 of $1.19 billion to $1.21 billion. Analysts surveyed by FactSet were looking for $1.17 billion.
The company maintained its expectation that currency fluctuations would knock $25 million off full-year revenue and store closings would pare another $20 million.