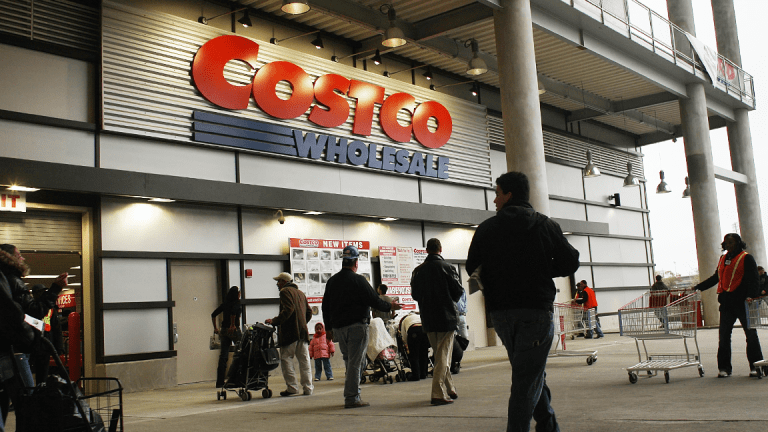 Costco Drops After Earnings at Warehouse Retailer Miss
Shares fall Friday after fiscal first-quarter earnings at Costco come in a penny shy of estimates.
Shares of Costco Wholesale Corp. (COST) - Get Report declined on Friday, Dec. 14, after the discount retail giant reported fiscal first-quarter earnings a shade lower than forecast  even as sales surpassed estimates.
Costco stock was down 8% to $208.47 on Friday. 
For the fiscal first quarter ended Nov. 25, the company reported net income of $767 million, or $1.73 a diluted share, compared to $640 million, or $1.45, in the comparable year-earlier period.
On an adjusted basis, Costco earned $1.61 a share, up from $1.36 a year earlier but a penny short of the consensus estimate of analysts surveyed by Zacks. 
Net sales gained just more than 10% to $34.3 billion, while membership fees increased 9.5% to $758 million. Areas that performed well included groceries, electronics, hardware, health and beauty aids, and automotive.
Total revenue, which include net sales and membership fee, came in at $35.1 billion, up from $31.8 billion in the year-earlier period.
Costco currently operates 768 warehouses, including 533 in the U.S. and Puerto Rico, 100 in Canada, 39 in Mexico, 28 in the U.K., 26 in Japan, 15 in Korea, 13 in Taiwan, 10 in Australia, two in Spain, one in Iceland, and one in France.
Costco also operates e-commerce sites in the U.S., Canada, the U.K., Mexico, Korea, and Taiwan.