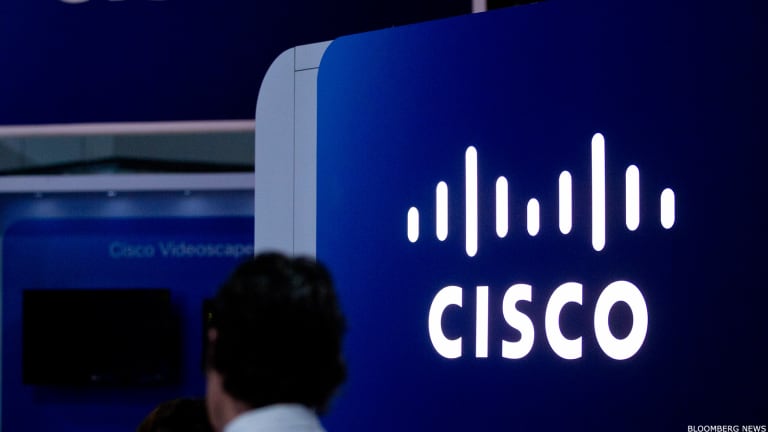 Cisco Systems Reports Under the Cloud of China Tariffs
Buy Cisco Systems on weakness down to its 200-day simple moving average at $48.13.
Cisco Systems  (CSCO) gapped below its quarterly and monthly pivots at $52.67 and $52.35 on Monday in reaction to the China announcement of tariffs on $60 billion of U.S. goods effective on June 1. This weakness provides the opportunity to buy the stock down to its 200-day simple moving average of $48.13.
Cisco is a component of the Dow Jones Industrial Average and at the end of 2018 had a dividend yield of 3.32%, making it one the eight "Dogs of the Dow" for 2019. The stock is up 18.4% year to date and in bull market territory 27.5% above its Dec. 24 low of $40.25. The stock set its 2019 high of $57.53 on April 16 and is in correction territory down 10.6% since then. Most of the decline occurred following the China trade talks which began in early May.
Analysts expect Cisco to report earnings of 77 cents to 79 cents a share when it releases results on Wednesday after the closing bell. The multinational technology conglomerate has a winning streak of beating estimates in six consecutive quarters. The stock isn't cheap with a P/E ratio of 20.53 and dividend yield of 2.62%, according to Macrotrends. Cisco results will be for the quarter ended on April 30,  before China tariffs became an issue. Guidance will likely be cautious, however.
TheStreet.com discusses three key issues to look for in Cisco's earnings report. This includes a potential slowdown in IT spending, growth in cybersecurity services, and potential China tariffs headwinds.
Cisco is a holding in Jim Cramer's Action Alerts PLUS member club. Want to be alerted before Jim Cramer buys or sells the stock? Learn more now.
Action Alerts PLUS analyst Jeff Marks said: We trimmed some a little bit ago because obviously we wanted to protect our profits in this type of market ahead. But, still a great company. Now the stock's made a huge run, so that is going to temper expectations. ... When stocks have made big runs, sometimes they pull back because the number they report just isn't completely what people were hoping for. But I wouldn't view that as a pullback because Robbins and his staff are doing a tremendous job with their software from hardware pivot. It's really driving gross margins higher, and we're also getting a gross margins bump too from weak memory pricing. 
The Daily Chart for Cisco Systems
Courtesy of Refinitiv XENITH
Cisco has been above a "golden cross" since Oct. 16, 2017, when the stock closed at $33.54. A "golden cross" occurs when the 50-day simple moving average rises above the 200-day simple moving average and indicates that higher prices lie ahead. The close of $43.33 on Dec. 31 was an important input to my proprietary analytics. Semiannual and annual value levels remain well below the market at $41.70 and $39.84, respectively. The close of $53.99 on March 29 was an input to my analytics and a quarterly pivot at $52.35 has been a magnet so far this week. The close of $55.95 on April 30 was also an input and the monthly pivot for May is $52.67. This week's risky level is $56.17.
The Weekly Chart for Cisco Systems
Courtesy of Refinitiv XENITH
The weekly chart for Cisco is negative with the stock below its five-week modified moving average of $53.64. The stock is well above its 200-week simple moving average or "reversion to the mean" at $35.97. The 12x3x3 weekly slow stochastic reading is projected to end this week at 72.63 down from 83.62 on May 10 falling below the overbought threshold of 80.00. During the week of April 19 when the stock set its 2019 high the reading was 94.51 well above the 90.00 threshold making the stock an "inflating parabolic bubble" which is a warning to reduce holdings.
Trading Strategy: Buy weakness down to the 200-day simple moving average at $98.13. Reduce holdings on strength to this week's risky level at $56.17. Monthly and quarterly pivots are $52.35 and $52.67, respectively, and if the stock stays below these levels it would be a warning in front of Wednesday's earnings report.
How to use my value levels and risky levels:
Value levels and risky levels are based upon the last nine weekly, monthly, quarterly, semiannual and annual closes. The first set of levels was based upon the closes on Dec. 31. The original semiannual and annual levels remain in play. The weekly level changes each week; the monthly level was changed at the end of January, February, March and April. The quarterly level was changed at the end of March. My theory is that nine years of volatility between closes are enough to assume that all possible bullish or bearish events for the stock are factored in. To capture share price volatility investors should buy on weakness to a value level and reduce holdings on strength to a risky level. A pivot is a value level or risky level that was violated within its time horizon. Pivots act as magnets that have a high probability of being tested again before its time horizon expires.
How to use 12x3x3 Weekly Slow Stochastic Readings:
My choice of using 12x3x3 weekly slow stochastic readings was based upon back-testing many methods of reading share-price momentum with the objective of finding the combination that resulted in the fewest false signals. I did this following the stock market crash of 1987, so I have been happy with the results for more than 30 years. The stochastic reading covers the last 12 weeks of highs, lows and closes for the stock. There is a raw calculation of the differences between the highest high and lowest low versus the closes. These levels are modified to a fast reading and a slow reading and I found that the slow reading worked the best. The stochastic reading scales between 00.00 and 100.00 with readings above 80.00 considered overbought and readings below 20.00 considered oversold. Recently I noted that stocks tend to peak and decline 10% to 20% and more shortly after a reading rises above 90.00, so I call that an "inflating parabolic bubble" as a bubble always pops. I also call a reading below 10.00 as being "too cheap to ignore."
Disclosure: The author has no positions in any stocks mentioned and no plans to initiate any positions within the next 72 hours.