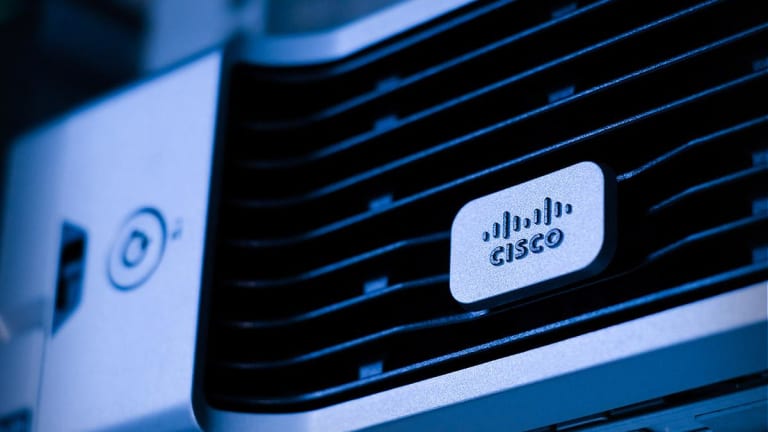 Cisco Analysts Applaud Company's Moves to Mitigate China Tariffs, Deliver Growth
Cisco's ability to quickly move production out of China, and separately, grow its key segments, impresses analysts.
Cisco (CSCO) analysts were largely encouraged by the telecom equipment giant's fiscal 2019 third quarter that beat estimates. 
Cisco shares were rising 4.33% to $54.65 a share in early trading Thursday; they're up almost 25% this year. 
Cisco beat earnings and revenue estimates and provided strong guidance Wednesday after the close, posting security revenue of $707 million, a 21% year-over-year growth rate, beating estimates of $676 million. Analysts were looking for a strong revenue result for that segment. 
Moreover, analysts were encouraged by Cisco's ability to mitigate the impact of tariffs on Chinese goods by moving operations out of China, as well as the growth in some of key product segments. 
Here's what the analysts said:
KeyBank Capital Markets, Overweight, Price Target Raised From $58 to $60
"From a tariff perspective, management has moved the majority of operations out of China to avoid the new 25% increase and has this integrated into July's guidance (that was effectively in line with our F4Q19 estimates)," analyst Alex Kurtz wrote in a note out Wednesday evening. 
"We remain buyers of CSCO as macro demand appears intact, driving better than expected product growth rates at 4.5% y/y vs. our 3.3%," Kurtz said. "Security was stronger than expected. We continue to see multiple top-line drivers into FY20." 
Kurtz raised his 2019 revenue and earnings per share estimates up to $51.8 billion and $3.07 from $51.7 billion and $3.06. His 2020 revenue and EPS estimates moved up to $53.7 billion and $3.46 from $53.6 billion and $3.44. 
Goldman Sachs, Buy, Price Target $62
"Cisco managed a beat and raise for the quarter in spite of the early quarter tariff increase," analyst Rod Hall wrote. "We were particularly surprised at CEO Chuck Robbins' comment that Cisco has been able to mitigate almost all of the increase to 25% tariffs with changes to its supply chain." He added, Cisco's ability to swiftly mitigate tariffs is "evidence that Cisco's supply chain team is one of the best in the business." 
Cowen, Outperform, Price Target $65
"FY3Q19 further reinforced our investment thesis. Another quarter of broad strength -- in face of uneven macroeconomic backdrop -- speaks to secular improving execution and to Street forecasts remaining too low," analyst Paul Silverstein said. 
"FY3Q19 marked the fourth consecutive quarter of solid, broad-based strength across most customer, product and regional markets. The breadth of this strength reflects higher quality and, we think, more sustainable growth as opposed to one driven more narrowly by a product refresh cycle or by strength in one particular customer market or region." 
Morgan Stanley, Equal-Weight, Price Target Raised From $49 to $51
"Despite questions over global macro and China tariff increases, Cisco continued to see strong demand conditions in FQ3," analyst James Faucette said. "The [tariff] impact will be minimal, likely meaning most US bound production has been moved out of China." 
However, "While we continue to be impressed by the strength of product refresh cycles and commentary in light of complex global macro conditions, we do not think conditions are such that there can be much top-line surprise to expectations in the coming quarters," Faucette said, as earnings potential "look fully built into valuation at this point." 
He did raise his 2019 revenue and EPS expectations to $51.8 billion and $3.07, respectively, from $51.5 billion and $3.03. 
CSCO is a holding in Jim Cramer's Action Alerts PLUS member club. Want to be alerted before Jim Cramer buys or sells these CSCO? Learn more now.