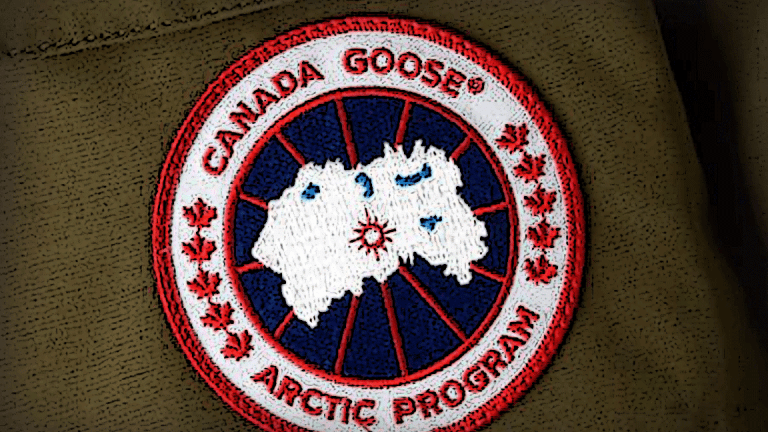 Canada Goose Beats on Profit, Fails at Risky Level; Here's the Trading Strategy
Buy Canada Goose on weakness to the semiannual value level at $30.30 and reduce holdings on a rebound to its annual pivot at $42.09.
Canada Goose Holdings (GOOS) - Get Canada Goose Holdings, Inc. Report beat Wall Street sales estimates and the stock popped 8% in the Wednesday premarket. But the gains were not sustained: The stock failed at its annual pivot at $42.09 before the opening bell.
At last check, the stock was trading off 11% at $34.81.
The downside risk is to its semiannual value level at $30.30. Given this volatility, my call is to buy weakness to the semiannual value level and sell strength to the annual pivot.
The Toronto retailer of luxury outdoor apparel reported robust orders for parkas and jackets sold in department stores in the U.S. such as Bloomingdale's (M) - Get Macy's Inc Report and Nordstrom (NVS) - Get Novartis AG Sponsored ADR Report .
A problem could arise as GOOS is expanding internationally, opening flagship stores in Beijing and Hong Kong. The company is expecting luxury-goods demand to grow among affluent Chinese consumers, but that's in question given the chaos in the streets of Hong Kong.
Here's the coverage of the earnings details as analyzed by TheStreet.com.
Shares of Canada Goose are not cheap, trading at a p/e multiple near 39, according to Macrotrends. The stock has been publicly traded in the U.S. since the week of March 17, 2017, and it has beaten earnings estimates for all 11 quarters.
The stock closed Tuesday at $39.04, down almost 11% year to date and in bear-market territory down 35% from its 2019 high of $59.94 set on Feb. 14. The stock had been in recovery mode, up 23% from its 2019 low of $31.67 set on June 6.
The Daily Chart for Canada Goose
Courtesy of Refinitiv XENITH
The daily chart for Canada Goose shows that the stock set its all-time high of $72.27 on Nov. 14, 2018. BS shows that the stock had a tradable bottom on Dec. 26. The close on Dec. 31 at $43.72 was an important input to my proprietary analytics and its annual pivot remains $42.09. This level was a magnet between July 10 and Nov. 6 when it failed to hold as a pre-earnings warning.
The close of $38.73 on June 28 was another important input to my analytics and its second-half value level at $30.30 has yet to be tested. The close of $43.97 on Sept. 30 was an input to my analytics and its quarterly risky level is $69.85. The close of $41.83 on Oct. 31 was an input that resulted to its November value level at $28.76.
The Weekly Chart for Canada Goose
Courtesy of Refinitiv XENITH
The weekly chart for Canada Goose is negative, with the stock below its five-week modified moving average of $39.13. The stock has not been publicly traded long enough to have a 200-week simple moving average, so a "reversion to the mean" is not yet known.
The 12x3x3 weekly slow stochastic reading is projected to slip to 37.57 this week from 41.05 on Nov. 8. If the premarket gains had been sustained, the weekly chart would be projected to be positive.
Trading Strategy: Buy the stock on weakness to its semiannual and monthly value levels at $30.30 and $28.76, respectively, and reduce holdings on strength back to its annual pivot at $42.09.
How to use my value levels and risky levels:
Value levels and risky levels are based upon the last nine monthly, quarterly, semiannual and annual closes. The first set of levels was based upon the closes on Dec. 31, 2018. The original annual level remains in play.
The close at the end of June 2019 established new monthly, quarterly and semiannual levels. The semiannual level for the second half of 2019 remains in play.
The quarterly level changes after the end of each quarter so the close on Sep. 30 established the level for the fourth quarter.
The close on Oct. 31 established the monthly level for November.
My theory is that nine years of volatility between closes are enough to assume that all possible bullish or bearish events for the stock are factored in.
To capture share price volatility investors should buy on weakness to a value level and reduce holdings on strength to a risky level. A pivot is a value level or risky level that was violated within its time horizon. Pivots act as magnets that have a high probability of being tested again before its time horizon expires.
Disclosure: The author has no positions in any stocks mentioned and no plans to initiate any positions within the next 72 hours.