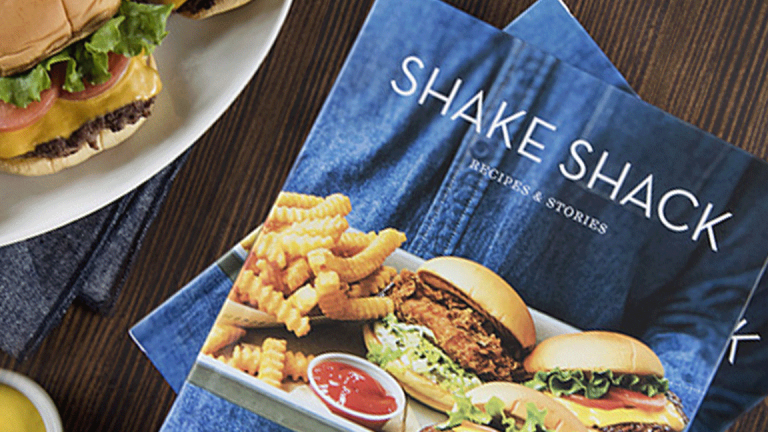 At Year Highs, Can Shake Shack Run Another 18%?
Shares of Shake Shack are hitting new 52-week highs. Now the question is, can SHAK stock return to its all-time highs?
Shares of Shake Shack (SHAK) - Get Free Report  surged higher on Tuesday, closing higher by more than 18% at $86.76 in midday trading and hitting new 52-week highs as a result. The catalyst? Earnings.
Not too many companies can boast that their stock is hitting new highs at a time where the market is struggling to find its footing. But after reporting its second-quarter results, that's exactly what Shake Shack stock is doing.
Earnings of 27 cents per share topped analysts' expectations by 4 cents. Revenue of $151.71 million jumped 31.1% year-over-year and eked past consensus estimates by $2.9 million. Comparable-store sales climbed 3.2% and easily topped estimates of just 2.2%, while traffic climbed 1.4%. Guidance was strong, too. 
Like McDonald's (MCD) - Get Free Report , Starbucks (SBUX) - Get Free Report , Chipotle Mexican Grill (CMG) - Get Free Report and other fast food and fast casual chains, Shake Shack delivered the good this quarter and has had a hot stock this year.
The question is, can it keep the pace?
Trading Shake Shack Stock
Overall, it was a strong quarter and long-time investors are finally being rewarded for their investment in Shake Shack. Not that the stock has been dead money this year, having more than doubled from its December lows, but it did go through a multi-year lull after its January 2015 IPO.
Shake Shack stock priced its IPO at $21 per share, but ended its first week north of $50. A few months later, it would top out at almost $97 in May 2015, before plunging to $30 in January 2016.
With SHAK stock's strong surge in 2019, it's finally getting back to some of its post-IPO highs. The question is, can it jump another 17.8% and hit new all-time highs?
Clearing $70 was an important move, as Shake Shack stock launched itself over its 2018 highs. Clearing $75 was also an important hurdle in my mind. This was a significant level in 2015, both before SHAK stock moved north of $90 and after.
Shares are flirting with a breakout of channel resistance (purple level), a mark that's been in play all year long. If it closes the week above this mark, see that it acts as support on dips. Should the broader market continue lower and pull Shake Shack lower, I want to see prior resistance like $70 and $75 act as support as well.
If it does, it increases the odds that Shack Shack can maintain its bullish momentum in the intermediate term, and make a run of more than 17.8% to new all-time highs. Losing the 10-week moving average as well as $70 would spell trouble for the bulls.
This article is commentary by an independent contributor. At the time of publication, the author had no positions in the stocks mentioned.