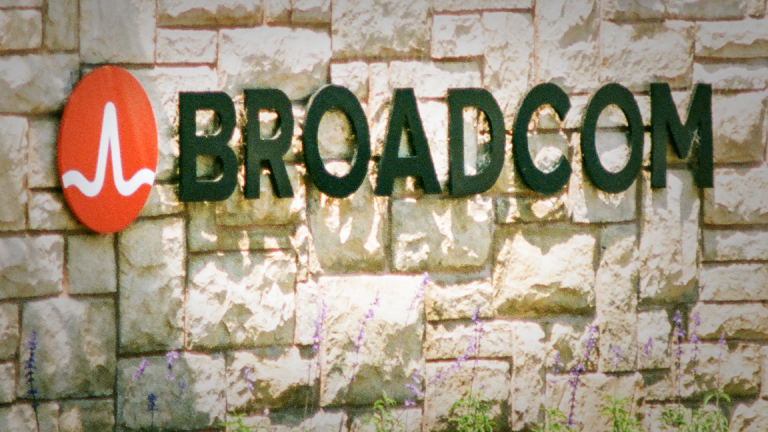 Broadcom Rises After Solid 2019 Revenue Outlook on Strong Cloud Demand
The chipmaker post stronger-than-expected quarterly earnings and boost its full-year outlook.
Broadcom Inc. (AVGO) - Get Report shares rose Friday after the Apple Inc.  (AAPL) - Get Report supplier and chipmaker posted stronger-than-expected quarterly earnings and boosted its full-year outlook.
Broadcom said earnings for the three months ended on Nov. 4, its fiscal fourth quarter, came in at $2.64 per share, more than double the tally from the same period last year and topping Street forecasts. Group sales, Broadcom said, rose 12% to $5.44 billion, again beating analysts' forecasts, while full-year revenues jumped 18% to just under $21 billion. Broadcom said it sees that number rising to around $24.5 billion over the current fiscal year, but noted that it won't provide quarterly revenue or earnings guidance going forward.
"We have backlog out 18 weeks for most of our products, that's longer than a quarter, which runs 13 weeks," CEO Hock Tan told investors on a conference call late Thursday. "And based on what we have in place, it's running pretty - trending pretty well compared to Q4."
"Cloud spending be it in the U.S. or China is still unchanged and it's still going on very well. Enterprises, maybe we start seeing some level of slowdown in enterprises, but that's only down to a small part of our broader system," he added. "Our exposure to consumer is limited to those couple of these high-end phones and in that regard, as we all have seen the phone market has not been exactly very strong these past several months."
Broadcom shares rose 0.9% on Friday, coming off sharp highs earlier in the session.
Broadcom Gains on Solid Results and Guidance: 5 Key Takeaways
TheStreet's tech expert, Eric Jhonsa, noted that Broadcom's full-year revenue outlook may have caught some analysts off guard, as they don't appear to account for Broadcom's $18.9 billion deal to buy enterprise software firm CA Technologies, which closed in early November.
"In addition, Broadcom guided for its operating margin, which will be hurt a bit in the near-term by CA, to be at 51% in fiscal 2019. That's up slightly from fiscal 2018's 50%," Jhonsa noted.
"Broadcom, which has sold CA's Veracode app security testing business for $950 million and begun the process of outsourcing CA's services business, forecasts CA will generate over $2.5 billion in operating income in 2-to-3 years on revenue of "over $3.5 billion," Jhonsa argued.
"In classic private equity fashion, Broadcom expects to pull this off in part by cutting CA's spending, which totaled $2.68 billion in its last fiscal year, to just $900 million."