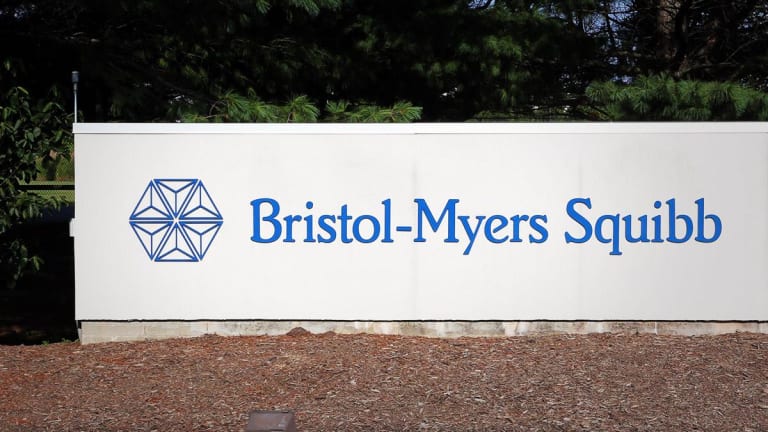 Bristol-Myers Tops Q4 Earnings, Pulls FDA Application for Cancer Combination
Bristol-Myers Squibb posts stronger-than-expected fourth-quarter earnings but pulls an application to the U.S. Food and Drug Administration for a blockbuster cancer drug combination in order to collect more data.
Bristol-Myers Squibb Co.  (BMY) - Get Report posted stronger-than-expected fourth quarter-earnings Thursday but pulled an application to the U.S. Food & Drug Administration for ablockbuster cancer drug combination in order to collect more data.
Bristol-Myers said profits for the three months ending in December came in at $94 cents a share, firmly ahead of the consensus estimate of 85 cents and up 38% from the same period last year. Group revenues, Bristol-Myers said, rose 10% to $5.973 billion, just ahead of the Street forecast of $5.95 billion.
"I am proud of our results in 2018, which were based on superior commercial performance for our prioritized brands and important scientific advances that continue to diversify our R&D pipeline," said CEO Giovanni Caforio. "We are beginning 2019 with good momentum in our current business, with Opdivo and Eliquis continuing as strong and growing franchises."
"Our planned acquisition of Celgene will position us to create a leading biopharma company, with best-in-class franchises, significant near-term launch opportunities and a deep and broad pipeline, creating an even stronger foundation for long-term sustainable growth."
Bristol-Myers shares fell 1.9% to close at $49.02 on Thursday.
Bristol-Myers agreed to buy Celgene Corp. (CELG) - Get Report  earlier this month in a deal that values the cancer drug specialist at $74 billion. The combined group -- which will be 69% owned by Bristol-Myers -- would have a portfolio with nine drugs that generate more than $1 billion in sales, the companies said.
Bristol-Myers also confirmed preliminary 2019 earnings guidance it published alongside the Celgene merger announcement in early January that looked moderately higher than the Street consensus.
The company said it sees non-GAAP earnings of between $4.10 and $4.20 per share, topping the $4.07 estimate from Refinitiv IBES but excluding the impact of the Celgene acquisition, and will plan an accelerated share buyback worth around $5 billion.
Bristol-Myers was told by the FDA in October that the agency extended the approval date for a market approval for its key 'Opdivo plus Yervoy' cancer therapy combination until May 2019.
EU regulators asked for more information on the therapy, which is being tested as part of a trial the group calls 'CheckMate -227', including an overall survival (OS) analysis for certain types of patients. Bristol-Myers said an OS analysis for the same patient sub-group was also submitted to the FDA.
Opdivo, which Bristol-Myers classifies as a "prioritized brand" that harnesses the body's own immune system to fight cancer, saw sales rise 33% to $443 million over the fourth quarter, while  Yervoy revenues grew 43% to $115 million.