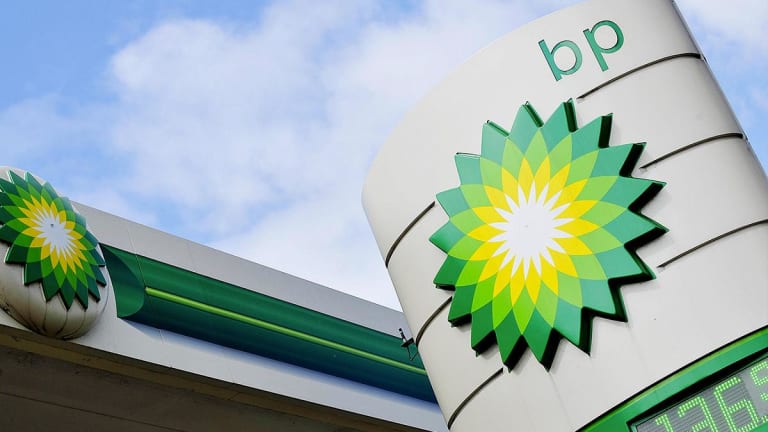 BP Surges After Best Quarter in Five Years: US Shale Poised To Drive Growth
BP shares rose to the top of the FTSE 100 Tuesday after the U.K. oil major posted its strongest quarterly profit in five years following the "transformational" acquisition of BHP Biliton's U.S. shale assets earlier this year.
BP Plc (BP) - Get Free Report shares rose to the top of the FTSE 100 Tuesday after the U.K. oil major posted its strongest quarterly profit in five years following the "transformational" acquisition of BHP Biliton's BHP U.S. shale assets earlier this year.
BP said underlying replacement cost profit, the group's equivalent to net income, came in at $3.8 billion for the three months ending in August, the highest in five years and more than double the $1.86 billion booked over the third quarter of 2017. Operating cash flow was essentially flat from last year at $6.6 billion, once payments for the 2010 Gulf oil spill were factored in, although the year-to-September run rate was about $1.1 billion ahead of last year's pace. BP's upstream business, which includes exploration, development and production activities, also saw pre-tax profits more than double to $4 billion. 
"Our focus on safe and reliable operations and delivering our strategy is driving strong earnings and growing cash flow," said CEO Bob Dudley. "Operations are running well across BP and we're bringing new, higher-margin barrels into production faster through efficient project execution."
"We have made very good progress with our acquisition from BHP and expect to complete the transaction tomorrow," he added. "This will transform our position in the US Lower 48 and we expect it to create significant value for BP. This progress all underpins our commitment to growing distributions for our shareholders."
Action Alerts Plus holding BP shares were marked 3.7% higher in the opening hour of trading in London, the biggest gain in nearly seven months, and changing hands a 554.5 pence each, a move that swings the stock into positive territory for the year.
NYMEX Light Sweet Crude prices traded in a range of $73.25 to $74.15 per barrel over the three months ending in September, some 43.5% higher than the top of the range for the same period in 2017.  
In July, BP made one of its biggest investments in decades with the $10.5 billion purchase of shale oil and gas assets from BHP Biliton that marked a major return to the U.S. market following the deadly Deepwater Horizon disaster off the coast of Houston eight years ago, which killed 11 workers on the Transocean-owned oil rig, cost the London-based group $65 billion in fines and penalities and sparked the biggest environmental disaster in American history.
BP said the "transformational acquisition", its biggest deal since buying Atlantic Richfield in 1999, will boost its U.S. oil and gas resources by 57% and allow entry into 470,000 net acres of licences that include positions in the liquids-rich Permian-Delaware basin as well as positions in the Eagle Ford and Haynesville basins that spead over east Texas and into Louisiana. BP said at the time it would increase its quarterly dividend by 2.5% to 10.25 cents a share and buyback around $6 billion in stock as part of its ongoing strategy to boost investor returns.
Today, however, the group added it would fund the entire deal with cash, instead of its planned rights issue, while it sold assets worth around $6 billion to further improve its balance sheet, moves it said reflected "confidence in cash generation and continued capital discipline."
BHP put its shale assets on the block in August last year after activist investor Elliott Management Corp. bought a 5% stake in the mining group and began agitating for a sale of all of BHP's oil assets, including operations in the Gulf of Mexico.
BHP has booked massive losses on its ill-fated foray into U.S. shale. The London and Australia-listed group paid about $20 billion for the assets just seven years ago and has spent almost as much developing the operations.
Earlier this month, Jim Cramer's Action Alerts Plus team said BP was its "favorite name in the energy sector" as cost cuts, declining Macondo payments and new regulations and a healthy dividend yield of 5.8% made for a strong investment case.
"First, the numerous amount of projects coming onstream over the next few years provides investors with long-term visibility into production growth," the team said. "By having its production path laid out, concerns that management will unexpectedly have to increase its capital expenditure budget to meet its production targets are reduced."
"Also, although oil has taken a momentary dip back into the upper $60s, we remind members that the current price of oil is well above this year's $50 breakeven price to organic free cash flow, a key figure that is expected to be steadily reduced to around $35 to $40 per barrel by 2021," AAP added.