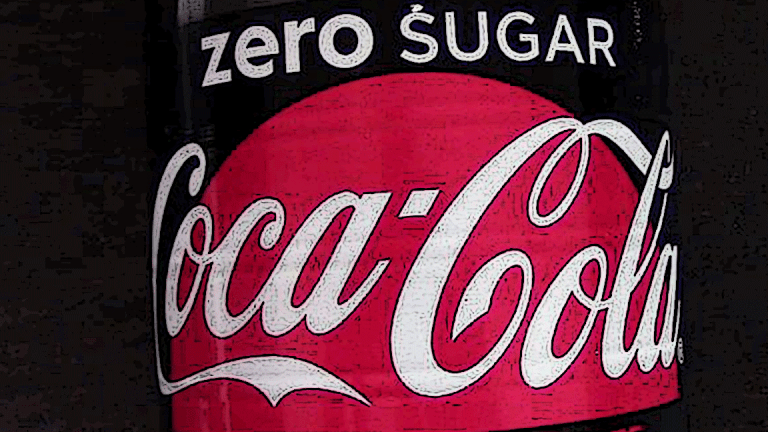 Book Profits on Coca-Cola as Earnings Were Saved by Coke Zero
Book profits on Coca-Cola on strength up to its all-time intraday high of $55.92 which was set on Sept. 4. My warning is based up a neutral weekly chart profile.
Coca-Cola (KO) - Get Coca-Cola Company Report reported better-than-expected revenue on Friday, with the beat saved by strong sales of Coke Zero. The weekly chart is neutral so don't expect the stock to reach a new high. My call is to book profits up to its all-time intraday high of $55.92 set on Sept. 4.
The stock is not cheap as its P/E multiple of 25.24 with a dividend yield at 2.99%, according to Macrotrends. Coca-Cola is a member of the "Dogs of the Dow" in 2019, but if the P/E stays below 3% it will be removed from the dog pound in 2020.
The stock closed Thursday at $53.79, up 13.6% year to date and in bull market territory 21.1% above its Feb. 27 low of $44.42. The stock is 3.8% below its Sept. 4 high of $55.92.
Revenue growth was saved by Coke Zero Sugar. I know as this brand is on my shopping list whenever I shop at Publix Grocery store. Most of the time Publix has a BOGO deal. I stock up on buy one, get one offers or buy two get three offerings. Coke offers soft drinks in various sizes and smaller portions have gained popularity. Coke Zero saved the company and hence the stock.
Coca-Cola is Jim Cramer's Real Monday Stock of the Day.
The Daily Chart for Coca-Cola
Courtesy of Refinitiv XENITH
The daily chart for Coca-Cola shows the strong rally for the stock since trading as low as $44.42 on Feb. 27. The stock ended 2018 at $47.35 which was an important input into my proprietary analytics. The annual pivot is now a value level for the remainder of 2019 at $51.51. This level was first tested on June 6 and was a magnet until Aug. 5 when the level held as a buying opportunity. The close of $50.92 on June 28 was the mid-year input to my analytics and the semiannual pivot for the second half of the year is $52.67. This was a magnet between July 31 and Aug. 7. The close of $54.44 on Sep. 30 was the latest input to my analytics and this established the fourth quarter value level at $51.29 and a monthly pivot for October at $53.62.
The Weekly Chart for Coca-Cola
Courtesy of Refinitiv XENITH
The weekly chart for Coca Cola is neutral with the stock above its five-week modified moving average at $55.15 and well above its 200-week simple moving average or "reversion to the mean" at $45.63 last tested during the week of June 29, 2018 when the average was $43.13. The 12x3x3 weekly slow stochastic reading is projected to slip to 68.23 this week down from 68.68 on Oct. 11.
Trading Strategy: Buy weakness to its annual and quarterly value levels at $51.51 and $51,29, respectively, and reduce holdings on strength to its all-time intraday high of $55.92. Semiannual and monthly pivots are $52.67 and $53.62, respectively.
How to use my value levels and risky levels:
Value levels and risky levels are based upon the last nine monthly, quarterly, semiannual and annual closes. The first set of levels was based upon the closes on Dec. 31, 2018. The original annual level remains in play.
The close at the end of June 2019 established new monthly, quarterly and semiannual levels. The semiannual level for the second half of 2019 remains in play.
The quarterly level changes after the end of each quarter so the close on Sept. 30 established the level for the fourth quarter. The close on Sept. 30 also established the monthly level for October as monthly levels change at the end of each month.
My theory is that nine years of volatility between closes are enough to assume that all possible bullish or bearish events for the stock are factored in.
To capture share price volatility investors should buy on weakness to a value level and reduce holdings on strength to a risky level. A pivot is a value level or risky level that was violated within its time horizon. Pivots act as magnets that have a high probability of being tested again before its time horizon expires.
Disclosure: The author has no positions in any stocks mentioned and no plans to initiate any positions within the next 72 hours.