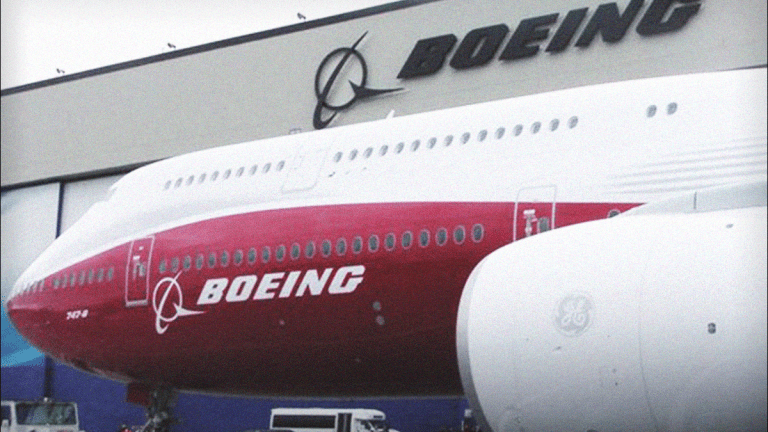 Boeing Hit With New FAA Safety Directive Ahead of Shareholder Meeting
Boeing shares extended declines Monday after the U.S. Federal Aviation Commission said it would impose new safety checks on the planemaker's 787 series of aircraft.
Boeing Co. (BA) - Get The Boeing Company Report shares extended declines Monday after the U.S. Federal Aviation Commission said it would impose new safety checks on the planemaker's 787 series of aircraft.
The new Airworthiness Directive, which will come into effect on June 3, will including inspections and checks for some of the planes parts, as well as inspections of aileron and elevator power control units. The FAA said the new directive was prompted by reports of hydraulic leakage to the units caused by lightnings strikes.
Last week, a  New York Times report, citing hundreds of internal emails, federal records and corporate documents. suggested Boeing's ten-year-old South Carolina plant has been "plagued by shoddy production" and "weak oversight" that could raise questions over the safety of the 787 Dreamliner and the company's broader culture. The Times report said Boeing pressured employees into working more quickly to avoid production delays while "at times ignoring issues raised" by those closest to the Dreamliner's assembly.
We are adopting a new airworthiness directive (AD) for all The Boeing Company Model 787 series airplanes," the FAA said. "This AD was prompted by reports of hydraulic leakage caused by damage to aileron and elevator actuators from lightning strikes."
"This AD requires an inspection or records check to inspect for certain parts, detailed inspections of aileron and elevator power control units (PCUs), and applicable on-condition actions," the Agency said. "We are issuing this AD to address the unsafe condition on these products."
Boeing shares were marked 0.52% lower Monday and changing hands at $378.83 each, a move that extends the stock's decline since the March 10 Ethiopian Airlines crash to around 10%.
The FAA move comes just hours ahead of a key Boeing shareholder meeting later today in Chicago, during which CEO Dennis Muilenburg will hold his first press conference since the grounding of the planemaker's 737 MAX fleet following deadly accidents in Ethiopia and Indonesia.
Last week, Boeing posted weaker-than-expected first quarter earnings and pulled its earnings guidance for the rest of the year until it has clarity on the fate of its 737 MAX program following the grounding of the flagship aircraft.
Boeing also said it would pause its stock buyback program, which had taken down $2.3 billion in shares over the first quarter, and would issue fresh earnings guidance "at a future date" as it deals with the grounding of more than 300 737 MAX planes following last month's Ethiopia Airlines crash and a similar Lion Air tragedy last year in Indonesia.
"Across the company, we are focused on safety, returning the 737 MAX to service, and earning and re-earning the trust and confidence of customers, regulators and the flying public," said CEO Dennis Muilenburg. "As we work through this challenging time for our customers, stakeholders and the company, our attention remains on driving excellence in quality and performance and running a healthy sustained growth business built on strong, long-term fundamentals."
Boeing said it shipped 89 737 MAX planes for the quarter, down from 132 over the same period last year, adding that commercial airplane operating margins narrowed 100 basis point to 9.9% as division revenues came in at $11.8 billion. Overall company inventories rose by 4.47% from the end of last year to $65.369 billion.
Boeing said earlier this month that the preliminary report into the cause of Ethiopian Airlines Flight 302's fatal crash, which killed all 157 passengers on board on March 11, as well as the Lion Air 610 disaster in Indonesia in early October, which took the lives of 189 people, were caused by activation of the Maneuvering Characteristics Augmentation System, or MCAS, in response to "erroneous angle of attack information" from a broken sensor.
Boeing vowed to correct the cause of the tragic incidents while recognizing the "devastation of the families and friends of the loved ones who perished."
The FAA said it would "evaluate aspects of the 737 MAX automated flight control system, including its design and pilots' interaction with the system, to determine its compliance with all applicable regulations and to identify future enhancements that might be needed."