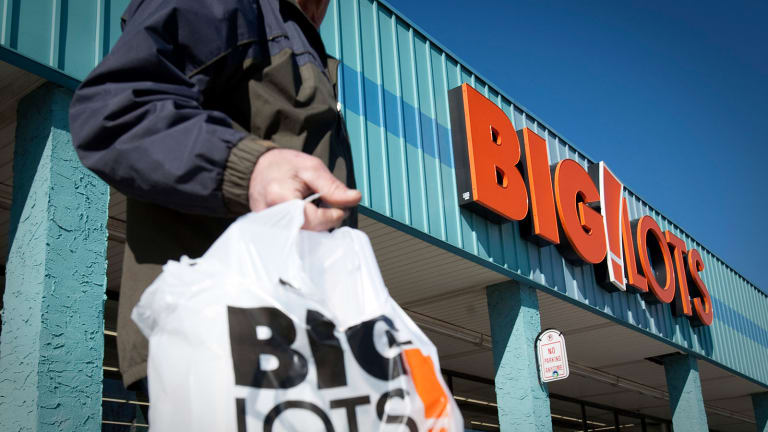 Big Lots Stock Suffers 23% Post-Earnings Drop
Shares in the discount retailer tumble 23% after worse-than-expected quarterly results and lower guidance for the crucial fourth quarter.
Shares of discount retailer Big Lots, Inc. (BIG) - Get Report plunged more than 23% Friday after announcing worse-than-expected quarterly results and significantly cut forward guidance.
The Columbus, Ohio-based company said it posted a net loss for the 13 weeks ended November 3 of $6.6 million, or 16 cents a diluted share, compared with net income of $4.4 million, or 10 cents a diluted share, a year earlier.
Shares in Big Lots posted a wild, 23.8% drop, falling $9.60 to $30.70 on the New York Stock Exchange. The company's stock has now halved from its 52-week high of $64.42 reached in late January and is now at a four-year low.
Offsetting the net loss, same-store sales rose 3.4% compared with the company's guidance of an advance of 2% to 4%, while net sales rose to $1.15 billion, up 3.6% from $1.11 billion a year earlier.
For its crucial fiscal fourth quarter, the company now sees earnings of $2.20 to $2.40 a share, down from $2.57 a year ago and prior guidance of $2.90 to $3 a share. Big Lots also said it expects comparable sales of flat to 2% in the fourth quarter.
Analysts and investors will be laser-focused on retailers' fourth-quarter earnings amid signs that consumers may be keeping closer tabs on their pocketbooks amid rising interest rates and slowing global growth.  
Big Lots is an American retail company headquartered in Columbus, Ohio with over 1,400 stores in 47 states.