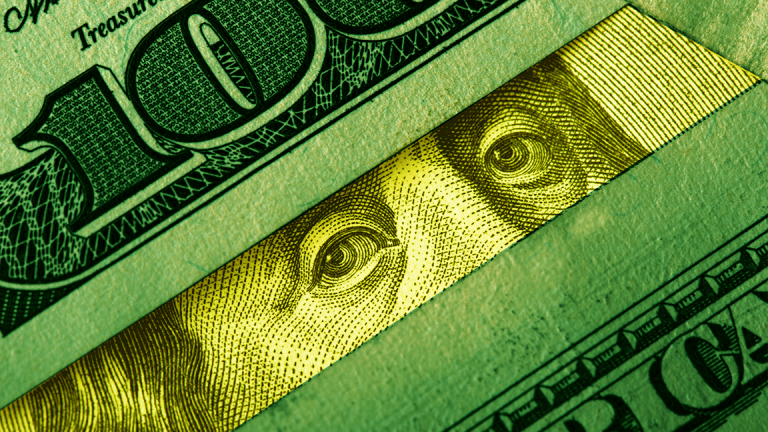 Banking-Tech Provider Green Dot Slumps After Revising Outlook Lower
Active accounts fell in the second quarter, and the company says it expects that trend to continue in the third quarter and begin to moderate in the fourth period.
Green Dot (GDOT) on Thursday lost two-fifths of its market value after the banking-technology and bank-holding company revised its outlook lower.
The stock was off 42% at $27.42.
In the second quarter, the Pasadena, Calif., company on a GAAP basis earned 64 cents a share, 16% above the 55 cents in the year-earlier quarter. Revenue rose 5.5% to $278.3 million.
The latest adjusted numbers were 90 cents a share of earnings on $265 million of revenue.
A survey of analysts by FactSet produced consensus estimates for the quarter of 63 cents a share of earnings on $265 million of revenue.
However, for the third quarter Green Dot expects to earn an adjusted 2 cents a share against the FactSet estimate of 11 cents.
For the full year, Green Dot revised its expectations for adjusted earnings to a range of $2.71 to $2.77 a share. That's down from its previous guidance range of $2.82 to $2.91. The latest estimate at the midpoint would be a 17% decline from a year earlier.
GreenDot now expects full-year adjusted revenue at $1.06 billion to $1.08 billion, up 5% at the midpoint. Its previous guidance was $1.11 billion to $1.13 billion.
The analysts surveyed by FactSet were looking for an adjusted $2.78 a share of profit on revenue of $1.08 billion.
Active accounts declined in the second quarter, Chief Financial Officer Mark Shifke said in a statement.
"We expect the trend of lower active accounts to continue into the third quarter, before starting to moderate in the fourth quarter," he said.
New products and programs should lead the company back to active-account and related revenue growth in 2020, he said.