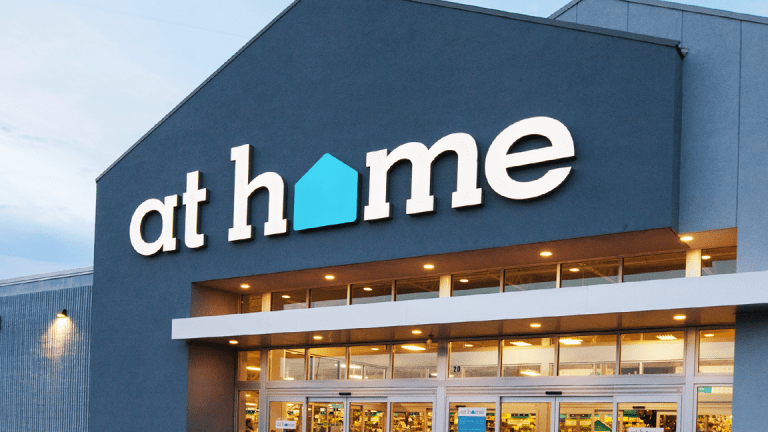 At Home Group Hammered After Earnings Report
At Home Group Inc. saw shares plummet by afternoon on Thursday, following the release of its quarterly earnings.
At Home Group Inc. (HOME) - Get Report  shares plummeted as much as 24% on Thursday, Dec. 6, after a fourth quarter forecast that may signal a "significant deceleration," according to a note from Morgan Stanley.
Shares recovered a bit hours after the Morgan Stanley report, closing down $4.06 at $23.75.
In spite of reporting quarterly earnings per share of 18 cents -- which beat Zacks Consensus Estimate of 15 cents for the third quarter -- the company's predictions for the next quarter didn't look so good, with Morgan Stanley analyst Simeon Gutman writing that "important results for the story do not live up to expectations."
Investors are thinking twice about the home furnishings businesses, because of volatile sales over the year, wrote Gutman, according to a copy of the note provided by Morgan Stanley. "The HOME growth story is based on a disruptive chain of home furnishing stores taking share in a highly fragmented market," said Gutman, also noting a "soft start" to the fourth quarter. Stock was rated as overweight with a target of $47.
For the fourth quarter of fiscal 2019, the company expects net sales of up to $352 million. It also sees a flat gross margin, as product margin expands but is offset by occupancy costs from sale-leaseback transactions. The adjusted operating margin will likely contract, too, said the company, because of an estimated $4 million in costs related to opening a second distribution center. Pro forma adjusted adjusted earnings per share are expected to hit 45 cents to 48 cents.
Calling the comp guidance of 1% to 2% "disappointing," Gutman, did, however, note that third quarter results were "solid" and better than expected, if only slightly. 
Net income rose to $11.1 million the third quarter, compared with only $2.4 million in the third quarter of fiscal 2018.
Gross profit rose by more than 37% to $86 million. The company's gross margin also expanded by 280 basis points to 32.2% from 29.4%.
"We are very pleased with our third quarter results, highlighted by strong top line growth, margin expansion and increased profitability," said chief financial officer, Jeff Knudson, praising the company's "disciplined" handling of initiatives, such as investing in a distribution center that "positions us to capitalize on the long runway of growth that lies ahead." 
For fiscal year 2019, the company expects to reach net sales of up to $1.164 billion, which would mean year-over-year growth of up to 23%.
Last month, At Home revealed that it had begun talking with lenders about potentially refinancing a $300 million senior secured term loan facility that matures in June 2022, and replace it with a $425 million senior secured term loan facility that would mature seven years after the closing date. The proceeds from the new term loan would repay the leftover balance on the original loan, potentially giving the company more cash and cut total borrowing costs.